Region's Retail Vacancy Rate Increases as Stores Close
Monday, April 27, 2009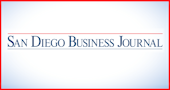 Weak consumer spending and slowing tenant activity are driving up vacancy rates. Retail vacancy rates increased in San Diego County for the fourth straight quarter, according to Voit Commercial Brokerage of Newport Beach.
Voit reported April 21 a 4.4 percent vacancy rate in the first quarter compared with 3.26 percent in the fourth quarter of 2008 and up 35 percent from the 3.26 percent rate in the same quarter of 2008.
Much of the vacancy was a result of several major retailers vacating large anchor spaces due to bankruptcy. Circuit City, Linens 'N Things and Mervyns closures pushed up vacancy rates across the county , dramatically in some areas.
The highest vacancy rate was in Point Loma at 8.6 percent, as Mervyns on Sports Arena Boulevard and Circuit City on Rosecrans Street closed recently.
The lowest vacancy rate in the county at the end of March was 1.56 percent in Mission Valley, which is home to Fashion Valley shopping center and Westfield Mission Valley, and 1.76 percent in Sorrento Mesa.
Longer Wait
Nick Alford, a broker with Cushman & Wakefield, says that in the past eight years, when one tenant vacated space, another moved in right away. Now the average downtime is six to nine months.
"The vacancy is a result of a lot of tenant attrition that has happened in the last year," Alford said.
"The tenant pool has drastically diminished. There are not as many tenants to fill the vacancies," Alford added.
With vacancy up, rents came down. The average asking rental rate for retail space decreased during the first quarter to $2.26 per square foot per month from $2.41 at the end of last year, according to CB Richard Ellis.
The sub-market with the highest average asking rental rate was east Chula Vista at $3.39 per square foot, followed by the Del Mar, Solana Beach and Rancho Santa Fe sub-market at $3.38 per square foot.
Despite the increasing vacancy rates, San Diego had the third lowest retail vacancy rate in the nation, behind New York City at 2.6 percent and San Francisco at 2.7 percent, according to CoStar Group.
The Maryland-based commercial real estate firm reviewed 60 of the largest markets nationwide in its report released this month.
Some Activity
Some tenants moved into large spaces. Stater Bros. Markets opened a 44,000-square-foot store at Bressi Village; Smart & Final moved into a 25,000-square-foot space in Oceanside; and 99 Cent Only Stores moved into 25,000 square feet at San Marcos Village.
Tenants looking for space in San Diego include Big Lots, Dollar Tree, Ross and Sonic.
Tony Villasenor, senior vice president of Voit Commercial Brokerage in San Diego, says that while vacancy is rising, shopping centers anchored by grocery stores are healthier than community centers, which are typically anchored by a big-box retailer, and specialty centers, which are leased by smaller retailers such as dry cleaners and salons or other independently owned stores.
"The traditional grocery stores are always looking in San Diego," said Villasenor, who is a landlord and tenant representative.
His tenants include Ralphs, Vons and Wal-Mart. He has worked with retail developers, including Florida-based Regency Centers, which owns 4S Commons Town Center, and Georgia-based Thomas Enterprises, which owns The Forum at Carlsbad.
Villasenor, who has completed $1 billion in sales and lease transactions, is also a member of the International Council of Shopping Centers.