Maxwell Technologies Generates $13.5M Deal
Wednesday, April 22, 2009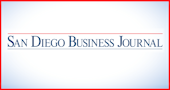 San Diego-based Maxwell Technologies has landed a $13.5 million purchase order from three of China's leading transit bus producers to supply energy storage systems and batteries for up to 1,000 hybrid diesel-electric transit buses.
Under the deal, announced April 22, Maxwell will supply its "Boostcap" system that recaptures and reuses kinetic energy captured from braking. As part of the system, it's begun shipping its 48-volt battery, which is assembled in China, said David Schramm, CEO.
The company has been working with heavy vehicle original equipment manufacturers in China for the past two years to gain an understanding of the needs of China's heavy industry transit buses. Maxwell says more than 150 hybrid buses are already equipped with Boostcap energy storage systems, and that number is now expected to grow to nearly 1,000 by year-end.
Maxwell shares closed on the Nasdaq at $9.13 on April 22.
, Ned Randolph