Ailing Economy Has Companies Cutting Back on Benefits
Monday, April 20, 2009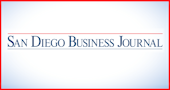 BY IMRAN VITTACHI | Special to the Business Journal
One way businesses are trying to trim expenses in a struggling economy is by cutting back on employee benefits, from health insurance to retirement plans, experts say.
"The reality of reducing the cost is with us," said Ruben Barrales, president and CEO of the San Diego Regional Chamber of Commerce.
Barrales hasn't seen signs of local companies phasing out employee benefits altogether, but many are spending less to provide them, he said. Or they may be shifting some or all of the costs from the employer to employee. In some cases, companies have stopped matching employees' contributions to 401(k) retirement accounts, he said.
"If the economy continues with the recession, it (the phasing out of benefits) may be an alternative for some companies," Barrales said.
However, he noted, some others wouldn't even consider that as an option because offering benefits is integral to their recruiting and retaining the best workers.
Health insurance costs in particular are expensive, and rising. So much so that companies are grappling with whether they'll be able to afford to offer their workers health coverage at all in a decade.
In a survey of large U.S. employers released by Watson Wyatt Worldwide in March, a global human capital consulting firm, showed that confidence in their ability to continue offering health benefits has slipped. Just 62 percent of 489 major employers surveyed said they were very confident they could continue that 10 years from now, down from 73 percent in 2008.
And, according to a recent poll of 633 human resources professionals conducted by the Society for Human Resource Management, a national association of human resources professionals, 10 percent of respondents said their companies planned to scale back on employee benefits as a whole.

Reforming Health Care
At the same time, private employers in San Diego are following the debate in Washington, D.C., about federal health care reform, and how it could change the current voluntary system of employer-offered benefits. Employers are wary that changes could force them to pay more for providing their workers with health insurance.
As one San Diego area group health plan broker suggested, health care reforms, if not handled carefully by legislators simultaneously trying to stimulate an economic recovery, could harm small businesses that are vital to the economy.
"I'm all for trying to figure out how to take care of the employees as well, but we've got to do this smart," said Neal J. Stehly, vice president at Marrs Maddocks & Associates, a local insurance services brokerage firm with offices in Carlsbad and San Diego.
For 20 years, Stehly has helped set up hundreds of group plans for Marrs Maddocks' clients, area businesses ranging in size from two to 300 employees. He said some of his clients are scaling back on employee benefits programs across the board, including reducing company matches into workers' 401(k) accounts. They're also trying to save money by reducing employees' health benefits or passing more of the cost onto their employees. Examples of reduced benefits might be bumping up workers' co-pays or their deductibles.
"Small businesses are a huge part of the economy," Stehly said. "We can't drive small business out of business."
By another expert's observation, companies worry that health insurance reforms could be enacted that would do away with a tax break in place today that allows workers to make tax-deductible contributions into their plans. Employers wouldn't like to lose that tax benefit, because "employers are employees, too," said Dee Shaw, office practice leader at Watson Wyatt's Los Angeles office, which oversees its San Diego operations.
Shaw said employers are wary as well that reforms could drive up their corporate health care costs because they would have to spend more in administrative costs to adapt their employee health coverage policies to state mandates, which could differ from state to state.
"It's not that they're opposed to health care reforms, it's just that everyone's concerned about how it's going to be implemented and what the effects are going to be," Shaw said.
Construction Industry Coverage
And, as a local economist put it, while San Diego County and the rest of the nation gear up for infrastructure projects slated under President Obama's national economic stimulus program, there's an ironic potential pitfall to his administration's effort to steer a package of health care reforms through Congress.
The administration and U.S. lawmakers could be creating a new set of health care-related problems affecting workers in the construction industry, with 670,000 jobs to be created in that sector through the stimulus, said Murtaza Baxamusa, research and policy director at the Center on Policy Initiatives, a nonprofit that researches and advocates policies for improving workplace conditions in the San Diego area.
According to his "Construction: Working Without a Healthcare Net" report released in March, even during the construction boom in 2005 only 35 percent of construction workers carried health insurance provided by their employers compared to half of workers in all industries. As many as 63 percent of surveyed workers responded that their employers hadn't offered them health coverage.
How to pay for giving these workers health coverage and who's going to foot the bill are, in Baxamusa's view, crucial questions that must be confronted.
"We're creating a health insurance crisis without having prepared for it," said Baxamusa, the report's author. "That is the problem they're not considering."
Imran Vittachi is a freelance writer for the Business Journal.