One Brokerage Expands North, Another South
Monday, April 6, 2009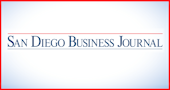 One firm's quest to reduce its footprint in San Diego and focus on the South Bay has been an opportunity for Windermere Exclusive Properties. The brokerage, which also offers mortgage and escrow services, recently bought two McMillin Realty offices in the North County. Terms were not disclosed.
Windermere President Steve Rodgers said the acquisition of the offices in Rancho Bernardo and Carlsbad is in line with the firm's expansion goals.
"Most big, corporate real estate companies are downsizing, are consolidating and are cutting back. I find this is a time where agents are looking for an opportunity and I am going to give it to them," said Rodgers, formerly president of Southern California and Central Coast Prudential California Realty.
There are six Windermere offices in the county. In addition to the two acquired from McMillin, a ninth office will open in May, according to Rodgers.
"My plans are to continue to grow the company at a moderate level," said Rodgers.
He anticipates having a total of 11 or 12 offices in six to 10 months.
The acquisition of McMillin Realty will not displace any agents, according to Windermere. There are 60 agents in the two offices.
Scott McMillin, president of McMillin Realty, declined to elaborate on a comment he made March 24.
"The decision will afford us an opportunity to focus our financial and personnel resources to the South County real estate market where our roots began and where we have the largest real estate presence for both McMillin Realty and also our home-building operations," said McMillin in the release. "It will allow us to protect, defend and eventually grow again in the South County."
McMillin will hold on to four offices, including Chula Vista and Bonita.
- - -
Aquatera Apartment Units Move-In Ready: H.G. Fenton opened the first phase of apartments at Aquatera, a 254-unit complex in Mission Valley. So far, 45 units are complete and move-ins began March 26. H.G. Fenton would not disclose the cost of the project.
The project includes a two-story, 10,300-square-foot clubhouse with gym and entertainment room. Outside, the facility includes a saltwater pool, cabanas and barbecue area.
The complex was designed with numerous environmentally friendly and sustainable features, including synthetic grass, a solar system that supplies 90 percent of the energy needed for all common areas, and an electric-vehicle charging station.
The one-, two- and three-bedroom units range in size from 730 to 1,390 square feet. Monthly rental rates for the apartments range from $1,635 to $2,820.
H.G. Fenton is the owner of 12 San Diego County apartment communities, including Club River Run, Portofino and River Front in Mission Valley.
- - -
Architect Expands Into Bay Area: Childs Mascari Warner Architects opened a San Francisco office in March. The San Diego-based architect said the expansion was a natural move.
The firm specializes in the design of health care facilities, senior living and retail projects, and the client list has included Kaiser Permanente, Palomar Pomerado Health and Sharp HealthCare.
Local projects include the Palomar Pomerado Health Expresscare Clinic, Scripps Memorial Hospital Chula Vista expansion, and the UC San Diego Hillcrest Medical Center Inpatient MRI Suite.
Send real estate, construction, design and urban planning news to Michelle Mowad at mmowad@sdbj.com.