Local SBA Lending Rattled By Wall Street Tumult
Monday, September 29, 2008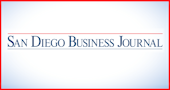 The Wall Street tumult is being felt locally with fewer loans made, including those guaranteed by the Small Business Administration.
Because of liquidity and capital problems on the part of large buyers of SBA loans, the secondary market has shrunk, said Kurt Chilcott, president of CDC Small Business Finance in San Diego.
Community banks sell their SBA loans to larger institutions, and then use the cash to make more loans.
Among those no longer buying are GE Capital and Lehman Bros. The latter hung out to dry earlier this month when it was forced to file for bankruptcy after the Federal Reserve wouldn't arrange a bailout similar to the one for Bear Stearns.
One of the largest buyers of SBA loans in the country, Zions Bancorporation of Salt Lake City, is still buying loans, but the amount is less than half of what it did a year ago, says Chilcott.
Nationally, lending for SBA's 504 program, used to buy commercial real estate, is down by 16 percent through mid-September. But in the Western region, which includes California, Arizona, Nevada and Hawaii, it's down 25 percent, he says.
For the SBA's other loan program, the 7(a) program, lending volume is down 30 percent nationally.
"Not only has the Wall Street crisis impacted the liquidity for SBA loans, the premiums these loans are generating aren't very large. It all means that lenders are making fewer SBA loans," Chilcott said.
Chilcott's institution did 129 loans for $83.8 million for the first 11 months of the 2008 fiscal year. That compared to 150 loans for $101 million during the first 11 months of 2007, Chilcott said.
A lot of this is caused by the uncertainty about the economy.
"A lot of people are on the sidelines, waiting to see if we've hit the bottom or if this is a good time to move forward," Chilcott said.
In terms of dollars loaned for the fiscal year, the biggest SBA lender in the San Diego and Imperial counties district is Wells Fargo Bank, which did $20.5 million on 77 loans through Aug. 31, according to the SBA.
The list lenders in the report includes some interesting names.
They include Merrill Lynch Bank and Trust, and Lehman Bros. Bank. Each made only one loan, with the total being less than $1 million.
And despite all the negative speculation, Washington Mutual Bank, with 71 branches in the county, made 38 SBA loans in the district for a total of $1.3 million.
- - -
Security Business Takes Hit: Security Business Bancorp in downtown San Diego is another community bank to lose money on its investment in preferred shares of Fannie Mae, which the federal government put into a conservatorship along with fellow mortgage buyer, Freddie Mac, Sept. 8.
That action cast a pall over the stock of the two.
When Security Business purchased the stock in the fourth quarter of 2008, it appeared to be a good investment. Fannie and Freddie are quasi-government entities that hold more than $5 trillion in mortgages.
It was not only a highly rated investment but the yield was more than 8 percent, and was one of the only stocks commercial banks are permitted to own, said CEO Paul Rodeno.
Recently, SBB's $2 million investment would fetch $200,000 or 10 percent of the original investment, he said.
While the expected write-down will cause the bank to sustain a net loss for the third quarter, Security Business' cash position is still strong, Rodeno said.

It remains a well-capitalized lender, and the loss won't impact daily operations, he said.
Local lender Bank of Internet USA also owned preferred shares in the two mortgage giants and reported a loss of $5 million on its $10 million investment after selling shares following Washington's intervention.
- - -
Mission Federal Names CEO: Mission Federal Credit Union named Debra Schwartz, who was the interim chief executive since April, as permanent CEO.
Schwartz takes over following the retirement of Ron Martin.
Schwartz has more than 25 years in financial services including stints at First Future Credit Union as CFO, and at San Diego Credit Union, where she was executive vice president.
She also held management jobs in operations and finance at several other area financial institutions.
Mission Federal has $1.8 billion in assets, 23 branches and 127,000 members.
- - -
Small Change: Comerica Bank opened an office in Mission Valley, bringing the number in the county to 10. Dallas-based Comerica said the new branch, opened in late August, was the 100th its opened since it began a national expansion four years ago. The bank says it will have 96 branches statewide by the end of this year First Business Bank opened a loan/deposit production office at 3142 Tiger Run Court in Carlsbad this month, bringing the number to four in the county Delores McNeely, a senior vice president at Union Bank of California, was named to the board of directors for the Southeastern Economic Development Corp. Yes, that's the same organization where CEO Carolyn Smith was fired because of problems over bonuses, but continues working. Delores McNeely is married to Robert McNeely, a member of the board of directors for the Centre City Development Corp. since 2003. Robert also is employed by Union Bank, heading up its corporate community development division.
Send any local finance news to Mike Allen via e-mail at mallen@sdbj.com. He can be reached at 858-277-6359.