Tapestry Solutions Goes Under Boeing's Wing
Friday, September 26, 2008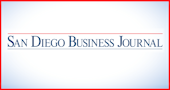 Boeing said Sept. 26 that it acquired San Diego-based defense contractor Tapestry Solutions. Details of the cash transaction were not disclosed.
Tapestry Solutions offers software and services to the government. Most of Tapestry's 350 employees are in San Diego. Some 150 are embedded with customers in Iraq and other areas where the military is deployed.
Annually, from 2004 through 2007, Tapestry Solutions was ranked on the San Diego Business Journal's list of Fastest-Growing Private Companies.
The company will become part of Boeing's Integrated Defense Systems unit. The acquisition is expected to close in October.
Tapestry Solutions made news in January 2003 when one of its founders, Michael Pouliot, was killed in Kuwait.
, Brad Graves