San Diego People
Monday, September 22, 2008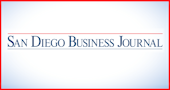 Bridgepoint Education said Diane Salucci has joined the company as vice president of corporate communications. Salucci, with more than 25 years of national public relations, investor relations and financial communications experience, will be responsible for management of Bridgepoint's external and internal communications. Most recently, Salucci served as senior vice president, investor relations advisory service for Bear Wagner Specialists of New York, N.Y. She has earned several Gold Quill awards from the International Association of Business Communicators. A former president of the Public Relations Society of America, Chicago chapter, she has also served on the board of the National Investor Relations, New York City chapter. Salucci earned her Master of Arts degree in Journalism from Ball State University and her bachelor's degree in English from Trinity College in Illinois.
Banking and Finance
Comerica Bank promoted Tim Epton to senior vice president, regional manager. He will be responsible for the banking centers in Orange and San Diego counties.
Construction and Design
Chris Petrov joined Psomas to head up the firm's structures team within the transportation group.
Education
Julie Cromer Young is the new director of Thomas Jefferson School of Law's Center for Law, Technology & Communications. Young, a Harvard Law School graduate, joined the faculty of Thomas Jefferson in the fall of 2003.
Engineering
HK Plastics Engineering Inc. hired Carlos Monsibay as a buyer and planner.
Professional Service Industries Inc. hired Kelli Bench as the facilities and environmental department manager in San Diego. Bench is a graduate of UC Riverside.
Government and Nonprofit
Marilyn Shea has been selected to serve as president-elect of the National Academy of Elder Law Attorneys, Southern California chapter. Shea will serve on the board to assist the president in achieving the goal and objectives of the organization as well as attend the NAELA chapter presidents' council meetings. Shea heads the Estate Preservation Group, a full-service, probate and Medi-Cal planning firm.
Health care and Biotech
Ultimate Labs Inc. hired Beth Dickerson as senior operations technician. Dickerson will be responsible for performing microbiological testing at client sites and at Ultimate Labs, assisting in the development and implementation of new procedures and training lab associates.
Sharp Rees-Stealy Medical Group announced the additions of several doctors to the group. Lori Ann Hergan has joined the urology department at Sharp Rees-Stealy at Scripps Ranch. Henrick Manassarians has joined the neurology department at Sharp Rees-Stealy San Diego. Lisa Johnston has joined the obstetrics and gynecology department at Sharp Rees-Stealy Otay Ranch. Michael Holtel has joined the otolaryngology department at Sharp Rees-Stealy at Scripps Ranch.
Hospitality
Davidson Hotel Co. hired Bernard Murphy as senior vice president, business development. Murphy will be based in Encinitas and will be responsible for overseeing the company's efforts in securing third-party management contracts. Murphy joins the company from Pinnacle Hotels U.S.A., where he was chief investment officer.
Miscellaneous
The Vista Chamber of Commerce has appointed Paul O'Neal as chief executive officer. O'Neal currently serves as chairman of the San Diego North Economic Development Council.
Retail
Enterprise Rent-A-Car promoted Casey Cooper to area manager for the San Diego region. Cooper will be responsible for overseeing sales and development for the Corona, Vista, Chula Vista and Miramar branches. Prior to this appointment, Cooper served as a branch manager in the Austin, Texas, region where he managed sales and was responsible for training employees.
Technology and Manufacturing
Transaction Wireless announced the addition of Bruce Springer as chief executive officer and Thomas Niedbalski as vice president, sales and marketing. Springer most recently served as an adviser to various private equity and venture capital firms and co-founded and served as president and CEO of BidShift.
APEM Components appointed Bryan Murphy to the position of Western Regional Sales Manager. Murphy will coordinate APEM's sales activities in California, Oregon and Washington.
Robin Mickle has joined Indus Technologies Inc. as senior vice president, western operations. Mickle most recently served as president of Kratos advanced technical solutions division. Mickle is a 1977 graduate of the U.S. Naval Academy.
, Compiled by Kevin Black