Sports Retail Expo Skates Out of Town
Monday, September 15, 2008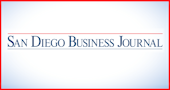 Late in the afternoon on Sept. 6, as the Action Sports Retailer Expo was wrapping up at the San Diego Convention Center, Biker Sherlock, an exhibitor, whose business card reads "owner/rider" of Dregs Skateboards, said he was confident that the orders he'd written and the contacts he'd made would give him a healthy bump in business.
The industry icon, who has won 11 X Games medals including five golds, assembles and ships Dregs boards in a variety of shapes and sizes from his warehouse on Morena Boulevard.
The three-day tradeshow that drew 18,000 attendees, including 700 surf, skate, swim, snow, motocross and apparel brands, 400 media members and 6,000 buyers has been a Convention Center mainstay since it first came to town in the winter of 1990.
ASR stages two tradeshows annually in San Diego and also holds events in Orange County.
The economic impact of the recent San Diego ASR event was $19.1 million, with direct spending of $7.9 million for hotel-room stays, dining in local restaurants, shopping, transportation and amusement, said Steve Johnson, vice president of public affairs for the San Diego Convention Center Corp., which operates and markets the 2.6 million-square-foot facility.
Indeed, the streets and sidewalks of downtown, including the Gaslamp Quarter and even the parking garage beneath the Convention Center were alive with the clacking and rolling sounds of skateboards during ASR. It returns to San Diego Jan. 22 to 24.
Resilient Industry
"The ASR show floor reflected a resilient industry that continues to produce amazing product lines, creative marketing and demonstrates contagious energy," said Group Show Director Andy Tompkins. "Even in a challenging retail climate, ASR continues to be an important platform for industry sales."
There are no numbers readily available to show how the action sports category is currently faring as a part of overall retail sales nationwide. But Marie Case, managing director of Board-Trac, an Orange County-based marketing research firm, said that the growth of action sports retail within the last 10 years is attributed to the brands' ability, including Quicksilver, Billabong and Volcom, to make their way into mainstream department stores.
"Ten years ago they were not in department store channels," Case said.
One big piece of the action sports pie is the amount of money that surfers spend, not just people who wear surfer-style apparel, but actual surfers, Case said.
Board-Trac projected that surfers will spend $3.4 billion this year on goods relating to their sport. That compares with $2.5 billion in 2006 the latest year for which the researcher has figures.
New this year on the action sports scene was a separate event, Virtue, which ASR held to cater to buyers of mixed martial arts , called MMA , apparel at the nearby Hard Rock Hotel in conjunction with its Convention Center tradeshow.
"I picked up a lot of new brands at this show," said Yogesh Patel, owner of Tracy-based Step Up. "Demand in my store is for MMA gear. I was happy with Virtue. It gave me a full view of that market in one place, which was great."