Carrier Johnson Shares in $79M UCSD Contract
Monday, September 15, 2008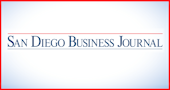 Local architectural firm Carrier Johnson has teamed up with Clark Design/Build of California, a unit of Bethesda, Md.-based Clark Construction Co., and won a $79 million design-build contract from UC San Diego.
Carrier Johnson will serve as the project architect and Clark as general contractor on a 279,000-square-foot student housing complex.
The proposed North Campus development includes a 12-story residential tower, plus low-rise apartment buildings, a campus-run restaurant and a retail market.
"The whole idea is to bring something very cool, refreshing, young thinking ... to create spaces students are really going to enjoy," said David Gonzalez, a senior project designer with Carrier Johnson.
Gonzalez said the project is tied by external walkways from building to building and from inside to out. The walkways at both ground and elevated levels provide access to bedrooms, laundry facilities, study rooms, dining space, food market and open space.
Supply And Demand
Mark Nelson, project manager with UCSD's design and construction office, said the university is building based on enrollment projections and continued demand for housing on campus.
The eight-building project includes 148 residential units to house 800 students.
UC San Diego has 27,000 students enrolled this fall. About one-third, or 9,200, of those students live in campus housing.
The mixed-use student housing project will be designed to meet U.S. Green Building Council Leadership in Energy and Environmental Design certification standards. LEED certification serves as the benchmark for environmentally friendly design.
"The buildings will be quite elegant and striking in many ways, as well as environmentally friendly," said Gonzalez.
The buildings will be sited to maximize natural light and minimize heat gain. In addition, several buildings will carry rooftop photovoltaic panels, and low-impact irrigation systems will be installed.
Both the high-rise and low-rise buildings will have concrete exterior with stucco, metal panel and curtain wall facade.
Construction is scheduled to begin in July, with completion set for May 2011.
Project subcontractors include San Diego-based mechanical engineer M A Engineers Inc., San Diego-based electrical engineer Michael Wall Engineering Inc., Los Angeles-based structural engineer Nabih Youssef Associates, San Diego-based mechanical and plumbing contractor A.O. Reed & Co., and San Diego electrical contractor Dynalectric Co., a unit of Emcor Group Inc.
Going Green
The sustainable project is just one of UCSD's latest green initiatives.
The campus recently announced installation of a $9 million solar electric system atop two of its parking structures.
The system, designed by Envision Solar Inc. of San Diego and using Kyocera Solar Inc. solar modules, will supply 2.4 million kilowatt hours per year, said the El Cajon-based installer, Borrego Solar Systems Inc.
David Weil, assistant director of UCSD facilities management, said the school prides itself on being one of the nation's leading universities when it comes to energy efficiency.
This system will contribute to the expected 29 million kilowatt hours per year of energy produced by UCSD, enough electricity to power 4,500 homes.
Aaron Hall, chief executive officer of Borrego Solar, said the sustainability program at UCSD will not only dramatically reduce the university's carbon footprint and energy costs, but will also encourage green thinking among the student body and community at large.