Sanders Appoints Members to SEDC's Embattled Board
Monday, September 1, 2008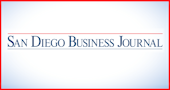 San Diego Mayor Jerry Sanders has appointed four new members to the board of directors of the Southeastern Economic Development Corp. The appointments were made in the wake of allegations against SEDC President Carolyn Smith for approving large bonuses for both herself and staff exceeding their base pay by more than a $1 million over the past five years.
Sanders named Gina Champion-Cain, Vernon Evans, Richard Lawrence and Simon Wong in mid-August, subject to City Council approval, which is scheduled for Sept. 2.
Champion-Cain is president and CEO of American National Investments, a real estate services company that specializes in urban development. She is a member of the International Council of Shopping Centers and the Urban Land Institute. Champion-Cain will replace Kea Hagan, whose term has expired.
Evans is vice president of finance and treasurer of the San Diego Regional Airport Authority.
He has served on the Texas State Board of Public Accountants and the boards of the Institute of Internal Auditors, National Association of Black Accountants and Fort Worth Metropolitan YMCA.
Evans will replace Randy Jones, who is termed out.
Lawrence is president of Lawrence Enterprises, a family-owned investment and consulting company.
He is also the managing coordinator of San Diego Works for Better Health, a California endowment project. He will replace Charles Simpson, whose term has expired.
Wong is founder and president of Simon Wong Engineering, a construction management and engineering firm. His firm specializes in retrofitting, bridge construction, and water and wastewater infrastructure.
He has more than 28 years of construction management and engineering experience. He will replace Chip Owen, whose term also expired.
- - -
Shades of Red: Two local architects opened a new Studio RED Achitects office in San Diego last month. Studio RED Architects is based in Houston.
The San Diego office is lead by partners Sheila Rowley and Kristine Byers.
Rowley has 22 years of experience in design and architecture. She has worked as the director of architectural technology, director of operations, and project designer and architect for a variety of projects including entertainment, retail, mixed-use, residential and commercial uses. Project experience includes work for Sony Electronics, Universal Orlando, Walt Disney, and Las Vegas resorts. She is a U.S. Green Building Council Leadership in Energy and Environmental Design Accredited Professional and has spent the past 10 years in San Diego.
Byers has 10 years of experience in architecture, design and construction. She has served as a project architect, project designer and LEED coordinator on numerous projects. She has worked on residential, mixed-use, retail, and private and public projects including at Miramar College and SAIC.
- - -
Command Central: RJC Architects was awarded a $54.5 million contract to design and build the Marine Corps Special Operations Command Headquarters at Camp Pendleton. The contract was announced Aug. 25.
RJC Architects in partnership with RQ Construction Co. will design the 89,000-square-foot headquarters building and a 21,000-square-foot academic building on a 33 acre site. This space will be used for special operations personnel to train, plan operations and maintain equipment.
The headquarters building will include an auditorium and medical offices.
Groundbreaking is scheduled in December with an estimated completion date in 2010.
In addition, RJC is planning and designing a $14 million lodging facility at Camp Pendleton. The new 50,700-square-foot, four-story facility consists of 69 rooms and suites.
- - -
Booming in Baja: Despite dramatically slow condo sales in Baja California, Mexico, one development continues to attract American buyers. The first two towers of Calafia Condos Resort and Villas just south of Rosarito Beach sold out and sales on the third tower, which is under construction, are already 20 percent sold.
Kathy Katz, of Prudential California Realty's Northern Baja Division, said the pleasant weather of Baja, the tax benefits and low property taxes continue to attract American and Canadian buyers.
Katz added that Calafia has an added advantage over other developers in this area. She said that Construction Gor, the Mexico-based developer and general contractor, purchased a large amount of steel for its project over a year ago when prices were significantly lower. Its supply of steel gives Calafia a price advantage and secures a steady building schedule, according to Katz.
Prices at Calafia start at $289,000 for a two-bedroom unit.
Send real estate, construction, design and urban planning news to Michelle Mowad at mmowad@sdbj.com. She may also be reached at (858) 277-6359, ext. 3109.