Ground Breaking: Grossmont College Health and Physical Sciences Complex
Monday, October 27, 2008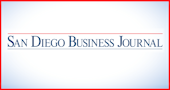 What: Construction of Grossmont College's health and physical sciences complex, a two-story complex that will consist of classrooms, laboratories, and faculty and technician offices. It will house six health care profession programs: nursing, occupational therapy assistant, respiratory therapy, speech-language pathology assistant, cardiovascular technology and orthopedic technology.
Where: Grossmont College, 8800 Grossmont College Drive, El Cajon.
Interesting aspects: The complex will feature the latest teaching tools and equipment. High-tech simulation labs have lifelike mannequins programmed to respond as patients would to prodding by nursing students. For the forensic technology program, there will be a mock apartment for crime scene processing. For astronomy students, there will be a rooftop deck with a planetarium; and for physics students, holography and computer labs.
Developer: N/A.
Financing: State bonds and funds from Proposition R, a $207 million facilities bond measure passed in 2002.
Designers: Architects Mosher Drew Watson Ferguson.
Interior design: Carrier Johnson.
General contractor: Overseen by project manager Gafcon under the direction of the Grossmont-Cuyamaca Community College District. C.W. Driver is the construction manager.
Major subcontractors: Nearly two dozen contractors. Major prime contractors are A.O. Reed & Co., Artimex Iron Co. and Standard Drywall. All are based in the San Diego region.
Completion date: Spring 2010.
Building cost: Estimated at $19.8 million.
Project cost: $35 million (projected).
Square footage: 52,000.
Tenants signed: N/A.
Leasing agent: N/A.
, Andrew Schweizer
Editor's note: Ground Breaking is a regular feature of the Business Journal, and includes commercial, industrial and multiunit residential projects that are nearing construction, under construction or finished with construction. Send suggestions of projects to aschweizer@sdbj.com.