Westfield Ready to Commit Another $50 Million to Area Retail Outlets
Monday, October 20, 2008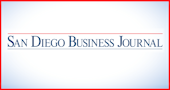 Westfield is strengthening its commitment to the San Diego retail market with plans to renovate the Horton Plaza shopping center it owns downtown.
The Australian-based retail center owner-operator submitted its renovation plans to the downtown redevelopment agency, Centre City Development Corp., this month.
In addition to its $50 million upgrade proposal for the aging Horton Plaza, Westfield recently completed a $115 million expansion and renovation at Plaza Bonita in National City and obtained San Diego City Council approval in July for a $900 million mixed-use expansion at its UTC mall.
Westfield says it is also moving forward with plans for a $200 million improvement project at its North County Shopping Centre in Escondido and a mixed-use expansion at its Mission Valley shopping center.
Jonathan Bradhurst, senior vice president of U.S. development for Westfield, says it hopes to open up the enclosed Horton Plaza. The multistory retail center, which takes up several city blocks off Broadway, has no storefronts at street level.
Seeking A New Vibe
"We want to provide a true outward facing retail experience," said Bradhurst. "We are ripping the skin off the building and completely transforming it to create the kind of vibe where you want to go downtown to go shopping."
Westfield submitted plans to the CCDC on Oct. 6 for renovating the former Robinsons-May department store along Broadway and Fourth Avenue, which is now home to Abercrombie & Fitch, Citibank, Sam Goody and United Artists Theatres. This section of 150,000 square feet of retail space takes up approximately 15 percent of Horton Plaza.
Westfield also says it is negotiating with several high-end retailers for this proposed renovated space.
Rumors of a Horton Plaza renovation have been circulating for several years. At one point, Westfield received entitlements for a possible hotel project at the site.
A lot has changed since the late Ernest Hahn developed the shopping center, designed to be isolated from the city streets, in 1985.
"The city, the CCDC and Hahn got together for a true partnership that led to a very imaginative project that was a retail oasis," said Bradhurst. "When you got into Horton Plaza, you were in a very delightful, surprising, whimsical kind of place."
Modernizing Downtown
But fast-forward 23 years, when the city can boast of the completed Petco Park and San Diego Convention Center, the renovated historic Balboa Theatre and US Grant, buildup of the Gaslamp Quarter and numerous other new developments. Yet, Westfield says Horton Plaza is behind the times as a fortress that's disconnected to downtown's urban life.
"This project will reconnect Horton Plaza (to downtown)," said Bradhurst.
Westfield hopes to receive approval and break ground on the project in the first half of next year.
The Australian real estate investment trust owns 55 shopping centers in the United States, including seven in the county. It serves as its own general contractor, architect, leasing agent and manager.
"San Diego has gotten a strong share of our attention," said Bradhurst. "And we are going to make sure we don't disappoint our customers."