San Diego People
Monday, October 20, 2008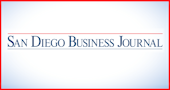 StormStaff has appointed Kelly Strukoff as associate vice president. Strukoff will manage day-to-day operations of the San Diego headquarters office and oversee StormStaff locations nationwide. She brings 11 years of experience in the staffing industry, having served previously as a managing director, business development manager and staffing manager. Strukoff will be responsible for furthering branding efforts and opening new offices in key markets. She received her Bachelor of Arts degree in psychology from Northwestern University and holds a Professional in Human Resources certification.
Banking and Finance
Chenpo Lin has been named territory manager by Wells Fargo Equipment Finance for its commercial vehicle group. He'll provide equipment financing and leasing options to trucking, trailers and vocational markets in Southern California.
Construction and Design
HMC Architects has announced its annual corporate promotions with Sandy Kate as associate, Michelle Denis as director of administrative services, Rebecca Hathaway as senior vice president, Corazon Roush as associate principal and Dave Rova as principal.
Education
The University of San Diego's Burnham-Moores Center for Real Estate welcomes Sherm Harmer, Charlie Abdi and Joseph Anfuso to its Policy Advisory Board. Harmer, president of Urban Housing Partners, will serve as chairman of the Executive Committee. Abdi is a principal at Finest City Realty Advisors and will be chairman of the Commercial Real Estate Committee. Anfuso, president of Florsheim Homes, will serve as chairman of the Residential Real Estate Committee.
Health care and Biotech
Verenium has appointed Gregory Powers to executive vice president of research and development. He has more than 30 years of experience in research and development, manufacturing and business development.
Sharp Rees-Stealy Medical Group Chula Vista announced Paulo Guillinta has joined the Cardiology Department. Guillinta received his medical degree at UC San Diego and is board certified in cardiovascular disease, nuclear cardiology and internal medicine.
Law
Jeffrey Weil has joined Cozen O'Connor as chairman of its commercial litigation department. Weil has more than 32 years of experience in class action, securities, antitrust and other business dispute cases in state, federal and appellate courts.
Henderson, Caverly, Pum & Charney, formerly Henderson & Caverly, of Rancho Santa Fe has added two new partners, Jack Charney and Philip Sullivan. Also joining the firm is Associate Attorney Jennifer McGibbons. Both Charney and Sullivan bring more than 30 years of experience in estates and trusts. McGibbons received her law degree from USD in 2001.
Media and Marketing
Chad Zottoli has been promoted to vice president of national sales at Search Optics. He will oversee the sales team for the San Diego-based Internet marketing agency. He was hired at the firm in June to launch the agency's legal vertical.
Astone has hired Sara Wilensky Napoli as the Southern California region president. She will lead the company's San Diego team. Her most recent experience in marketing and public relations was with a locally based nonprofit where she served as senior vice president of marketing and communications.
Miscellaneous
Crownair Cos. has announced Adam Parish as its new director of sales and Debi Carlston as director of marketing. Jerry Bishop will serve as director of certification with David Lohmeyer as general manager. Parish will oversee avionics and maintenance sales for all company locations. Carlston will manage all marketing and public relations efforts for the company. Working directly with the Federal Aviation Administration to manage all certification and engineering efforts, Bishop has more than 18 years of experience in aviation. Lohmeyer will oversee profit and loss for the Maintenance and Avionics departments, business growth, and ensuring that all office locations are in compliance with FAA regulations.

Real Estate
Grubb & Ellis|BRE Commercial announced that former Cushman & Wakefield senior broker, Thomas van Betten, has joined the company as a sales and leasing specialist within the firm's Office Specialty Division. He brings more than 16 years of experience in the commercial real estate industry and will be based out of the University Towne Center office.
Don Mitchell has joined CresaPartners as managing principal. Mitchell has represented many high-profile office developments in San Diego, including the 450,000-square-foot Liberty Station office district in Point Loma.
Technology and Manufacturing
Semtek has announced additions to its senior management team. Lance Nakamura will serve as vice president of product development and has more than 22 years of industry experience. Jay Standiford, newly named vice president of product development, will be responsible for all production engineering functions. Roger Cooper, vice president and senior sales officer, will assist in business development efforts with his more than 20 years of experience.
, Compiled by Cassandra Dump