Lyric Opera, North Park Theatre Need Your Support
Monday, October 13, 2008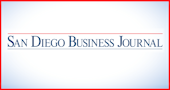 Lyric Opera San Diego just opened its 30th consecutive season with a critically acclaimed production of Leonard Bernstein's American masterpiece, "Candide."
In the past 30 years, LOSD has become one of the major San Diego performing arts institutions.
It has been the leader in restoring the Birch North Park Theatre, helping to revitalize the entire North Park community, providing jobs for many artists, performers and craftsmen from throughout San Diego County and hosting more than 120 performance nights serving more than 50,000 patrons per year.
The company has launched an academy for middle and high school students during the summer, including 40 students, most of whom receive some form of financial assistance from Lyric Opera donors.
Our education and outreach programs and lectures impact hundreds of patrons per year, including members of the Center for the Blind, The Salvation Army Senior Centers, Jewish Family Service, and students from Hoover High, San Diego High, SCPA San Diego, SCPA Chula Vista, the Sweetwater district, Bell Middle School, and Dana Middle School, and provide speaker services to clubs and churches throughout the city, reaching more than 3,000 people per year.
In addition to the local staff, artists, and performers hired by Lyric Opera each season, the company impacts dozens of jobs in the North Park area, including restaurants, shoe repair, dry cleaners, dance studios and banks, to mention but a few.
The renovated theater is a centerpiece of the North Park community.
Lyric Opera has always prided itself on running a lean and efficient operation, keeping expenses low and our operating budget in the black.
With the help of generous donors and patrons, the company has weathered many storms over the years in the most challenging of circumstances.
Still, we have never faced a situation like the one we are in now.
The impact of the recent national economic crisis is felt at all levels, and donations and ticket sales are simply not where they need to be for Lyric Opera to continue operating the theater as usual.
We want to keep bringing high quality, affordable entertainment for the rest of this season.
But since we lack a large endowment, we need the support of every segment of the community , including you.
Leon Natker is general director of Lyric Opera San Diego.