Entrepreneur Profile - Mark Canavarro
Monday, October 6, 2008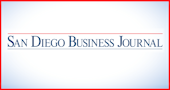 Mark Canavarro is president of Cubicles Office Environments, a provider of new, used and refurbished office furniture to small to midsized companies. Cubicles is also an authorized distributor of green office furniture.
VITALS
Name: Mark Canavarro.
Title: President.
Company: Cubicles Office Environments.
Company address: 2560 Fortune Way, Vista 92801.
Company phone: 760-536-6374.
Year founded: 2002.
Prior business experience: I've been in the furniture business in San Diego for the past 17 years. I started out in sales and moved up to sales manager of the largest refurbisher in San Diego.
Average hours worked weekly: 40.
Source of startup capital: $100,000 equity in a condo I owned.
2007 revenue: $4.3 million.
2006 revenue: $3.4 million.
Number of employees: 10.
Web sites: sandiegocubicles.com and greenofficeprojects.com.
BACKGROUND/PERSONAL
Birthplace: Baltimore.
Education: ITT Technical Institute; Bachelor of Arts degree in manufacturing, engineering.
Age: 41.
Current residence: Carlsbad.
Family: Wife, Misty; children, Nicholas, 15, Monique, 26, Nicole, 28; and granddaughter, Madison, 2.
Hobbies: Golf, poker, playing guitar.
How do you relieve stress? Reading and swimming laps in my pool.
What are the biggest achievements in life aside from your business? My family and going back to school to get my degree at the age of 24.
What is the biggest lesson you have ever learned? I learned that if you always do the right thing, and I think most everybody has a sense of what that is, you will never have regrets.
Do you have any fun business-related stories you would like to tell? My first job was as a sales rep for a worldwide manufacturing company. I took the position with the understanding that I would be able to move to outside sales within six months. At the six-month mark, my manager called me into his office and said the results of an aptitude test indicated I would not be a good sales rep and said he would not give me that position. I resigned a week later and became a top sales rep before launching my own company.
Do you have any rituals you go through before big meetings or hard decisions? I check my mirror to see if I missed a spot while shaving.
Who/what are you listening to in the car, on your iPod, etc.? I love jazz, and listen to a channel called Chill on Sirius satellite radio.
Best part about working in San Diego: The business climate is fantastic. We have such a diverse group of industries here from biotech to technology to pharmaceuticals. If one sector is not doing well, others are.
JUDGMENT CALLS
Reason for getting into business: I felt that I could do a better job of running a company than the place I worked previously.
What need, in your industry, did you perceive was unmet? Most of my competitors are focused on large projects, even though companies with three to 100 employees need the same level of service.
How I plan to grow the business: This year we started marketing towards the military, federal, state and local governments. This was a segment that we never addressed previously.

Greatest advantage of owning your own business: Being the person where the buck stops.
Biggest disadvantage of owning your own business: Being the person where the buck stops.
Business's major strength: Our motto is, "whatever it takes."
Business's major weakness: We have grown rapidly during the past six years; from $800,000 the first year to more than $4 million in 2007. That means we spend a lot of time tweaking and adjusting our processes to keep up. It's a problem, but a good one to have!
What is the greatest need you have in your business? Finding the right people.
Smartest business decision: Hiring the right people and giving them the authority to do their job.
Largest risk: Buying the building we occupy.
Significant business mistake(s): Providing a product to a client that we had not used or tested before and having the product turn out poorly made. We test new products to ensure quality.
Toughest career decision: Leaving a well-paying job to start this company.
Biggest ongoing challenge: Learning how to go from a sales position to managing personnel, marketing and advertising, all the while staying focused on growing the business.
The most important part of my business: Our clients and employees.
My business works best when: We act as a consultant to clients as opposed to a client-vendor relationship.
Best way to stay competitive: Read and study what successful people have done and are doing.
How I measure success: By how happy my employees and clients are.
GOALS
Goals yet to be achieved: I want to build the business to where it is self-sustaining so that if anything happens, the procedures, employees and policies can keep going without missing a beat.
My five-year business plan: To have name recognition of Cubicles Office Environments in the San Diego marketplace.
I would sell my business only if: I could ensure that my staff members retain their position, as well as give them all a nice nest egg for retirement.
Guiding principles I will continue to follow: Warren Buffett said, "It takes years to cultivate a great business reputation but only a few minutes to destroy it." This is the reason that I am always re-enforcing the fact that "whatever it takes" to make the client happy is what we are going to do.
, Andrew Schweizer