Hotel Industry Coping With Lower Occupancy Rates
Monday, November 17, 2008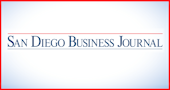 A precipitous drop in hotel room occupancy signals a rocky road ahead for the county's hospitality industry, some say.
How bad a downturn it will be or how long it will last is uncertain.
Smith Travel Research, a Tennessee firm that keeps statistics on the lodging industry nationwide, reported that occupancy was down 14 percent during a 28-day period ending Nov. 8, while room revenue , the yardstick for measuring the health of a market , is also down 14 percent. Occupancy rates began to soften early this year. But hoteliers had enjoyed the ability to hike room rates and, in so doing, increase revenues for several years until recently.
Adding to the problem of lowered occupancy brought on by a sagging economy is that the local hotel market is heading into overbuilt territory.
According to the San Diego Convention & Visitors Bureau, the county's hotel room inventory stood at 54,693 rooms in 2007, is expected to end the year at 57,118, and is likely to increase to 58,118 by the end of 2009.
"This may be the perfect storm, but unlike the colonists, we will come home," said Bill Evans, an executive of Evans Hotels, which owns the Bahia and Catamaran resort hotels as well as The Lodge at Torrey Pines.
He sees a savior, however, in the installation of the Tourism Marketing District, which this year began collecting a 2 percent fee on nightly hotel room stays to raise tourism marketing funds, aside from the city's bed tax that had been siphoned off to supplant its budget deficits in recent years.
"Though we might have less business than we had before, the hotel community has enough in marketing funds to help weather the storm," Evans said.
Property Transactions
As for the buying and selling of hotels, San Diego was the darling of Wall Street between 2005 and late 2007, when buyers, including real estate investment trusts, spent billions of dollars on property transactions.
So far this year, only a few small hotels have been sold in the county. However, PKF Capital of San Francisco, the brokerage arm of PKF Hospitality Research, recently predicted that hotel transactions will pick up again in 2009 as lenders and buyers return to the market in anticipation of a 2010 recovery.
Not so, says Alan Reay, who heads the Irvine-based brokerage Atlas Hospitality Group, which publishes annual and semiannual reports on hotel starts and sales across California.
Reay says there have been hotel foreclosures in the Coachella Valley and that mortgage loans are going into default elsewhere. He adds that owners whose loans mature within the next couple of years will have difficulty refinancing because lending capital will be in short supply.
"You may not see foreclosures in San Diego or Orange County, but will we return to business as usual in 2010? No way," he said. "It's a new world in terms of commercial loans, including hotels. It will never go back to what it was in 2005 or 2006 or early 2007."