Union-Tribune Circulation Slips
Monday, November 3, 2008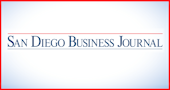 The San Diego Union-Tribune's carriers have fewer papers to throw on doorsteps these days.
Its paid weekday circulation slipped 3 percent to 269,819 on Sept. 30, from 278,176 the same year-ago day, the Audit Bureau of Circulations reported Oct. 27.
The Union-Tribune's Sunday circulation was off 3 percent to 342,384 from 359,364, while Saturday circulation declined 3.3 percent to 317,855 from 328,991.
Circulation for its Enlace, a Spanish-language publication, was not counted in the ABC report because it is a free weekly distributed in the county's Hispanic communities and in Tijuana. Neither was that of Today's Local News, a free paper distributed Wednesday and Sunday in the North County.
On Sept. 30, 2005, the Union-Tribune's weekday circulation stood at 314,279, according to the ABC, while Sunday circulation was 416,682 and Saturday's was 362,388.
The Union-Tribune, which put itself up for sale in July, has yet to land a buyer.
Within the last two years, it has pared its employee roster through early retirement offers, buyouts and layoffs. The La Jolla-based parent company, The Copley Press, also sold nine of its newspapers , seven dailies and two weeklies in Illinois and Ohio , for $380 million. The Daily Breeze of Torrance, also a Copley paper, was sold for an undisclosed price to the Hearst Corp. in collaboration with MediaNews Group of Denver.
According to the Audit Bureau of Circulations, 507 metro dailies that reported their numbers for the six months ending Sept. 30 had an overall weekday decline of 4.6 percent, to 38.2 million copies.
The Union-Tribune does not give out revenue figures, but its pocketbook is lighter this year than last, according to a revenue estimate by BIA Financial Network, a Virginia-based media adviser.
In 2007, BIA had estimated the paper's revenue totaled $356.2 million, of which $270 million came from advertising and $53 million came from circulation.
For 2006, BIA estimated that the Union-Tribune had total revenue of $386.7 million, of which $292.9 million came from advertising and $57.8 million from circulation.
, Connie Lewis