Borrowers Look to Microloans to Bail Them Out of Credit Crunch
Monday, November 3, 2008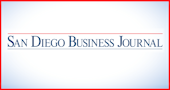 BY MARK LARSON
With the credit crunch in full swing, small-business owners and startups looking to borrow money have been turning to microloans to meet their financing needs.
Elizabeth Makee is director of operations for Accion San Diego, a local bank and grant-funded nonprofit that provides loans to entrepreneurs who are unable to qualify for a traditional loan. Makee says her office has seen loan activity increase significantly.
During the past three months, Accion San Diego has loaned $500,000 to applicants, or nearly $200,000 a month, whereas the typical monthly lending total is between $100,000 and $150,000.
The nonprofit provides loans ranging from $300 to $35,000, with fixed rates ranging from 12 percent to 18 percent. Payback times are typically two to three years. Before the downturn, Makee says loans averaged $8,000. Lately, though, they've been averaging $10,000.
"We're seeing high credit scoring," says Makee of microloan applicants. "The same people a year ago may have qualified for a bank loan."
Makee says her offices usually get up to 150 loan inquiries each month and about10 percent get approved. Now, she says, because of the bigger pool of applicants with higher than normal credit ratings, the approval rate hovers at 15 percent.
Applicants usually have no credit or collateral, or history of bankruptcies. Accion San Diego requires applicants' bankruptcies be a year old before they can qualify for a microloan. They can't have tax liens and they must be current on any credit payment plan. Depending on the size of the loan, applications can be approved in two days to two weeks.
Thousands Of Loans
Accion San Diego has provided more than 2,300 loans, totaling above $12 million, to entrepreneurs since opening locally in 1994. The office currently has a $2.5 million loan portfolio and 330 active clients.
Robert Villarreal, senior vice president of San Diego-based CDC Small Business Finance, says his office is also awarding a greater number of microloans this year, which range from $5,000 to $35,000.
His office awarded six microloans last year and doubled that amount this year.
But for small-business loans, the next step up from microloans with values of $35,000 to $200,000, it's a different story. Through September, his office awarded 114 such loans, which was down from the 151 awarded for the same period last year, says Villarreal. The total loaned for that period last year was $10 million, he says, versus $6.5 million this year. Tightened credit has been the key factor, he says, along with Small Business Administration loan packages that are pulled back once they total 10 percent of an office's portfolio.
Meanwhile, CDC's Small Business Administration loans for businesses wanting to buy the commercial real estate they occupy are down about 17 percent from a year ago, says Villarreal.
Ruben Garcia, district director of the Small Business Administration's San Diego office, says his office has also seen a decline in loan activity this year through September because of tightened credit terms.
For the federal fiscal year through September, Garcia's office set a goal of providing 1,702 loans, but ended up at 1,026. This year, the region saw SBA loans awarded totaling $350 million, down from last year's $375 million.
"It has slowed down enough to have made an impact," Garcia said of SBA loan activity. "We hope it is bottoming out, but we don't really know."
Mark Larson is a freelance writer for the Business Journal.