Small Businesses Take Lessons in Securing Contracts for Highway Projects
Monday, May 5, 2008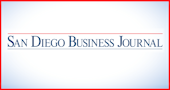 With state and federal funds earmarked for reconstructing the state's crumbling highway system, the California Department of Transportation is poised to receive more than $6.5 billion between October 2007 and September 2008.
For San Diego and Imperial counties, this amounts to $830 million for fiscal year 2008, which ends next month, and an estimated $400 million for 2009. The $1.2 billion windfall is roughly twice the region's usual share.
"We've never had a program of that magnitude before," said Armando Garcia, deputy district director of construction for Caltrans in San Diego and Imperial counties.
With homebuilding in a swoon, road work is a lifeline for the local economy.
Caltrans' funds earmarked for 2008 will create about 30,000 jobs in San Diego , "and we're still rolling them out," said Garcia.
These include subcontracting opportunities for small businesses. "The governor has committed to obtaining 25 percent small-business participation across the board, and right now we're seeing a lot of bidders," he added.
Smaller firms provide essential products and services needed for road repairs, from landscaping to engineering, from backhoes to fencing. What they often lack is expertise and confidence in navigating the complex shoals of government rules and record-keeping.
Free Workshops
To help local suppliers compete, the Small Business Development Center, or SBDC, in Oceanside, hosted by MiraCosta College, is offering free construction-related business management workshops and one-on-one counseling sessions.
"We try to give people an overview of what it takes to do business with Caltrans and with all large agencies and organizations," said Sudershan Shaunak, director of the California Construction Contracting Program and SBDC in Oceanside. The program is a statewide partnership between Caltrans and the SBDC.
Dave Hill, general manager of Westturf Landscape Management Inc., is gearing up his 50-person staff for subcontracting work on Caltrans' roadside landscaping and maintenance projects. The Vista-based company has apartment complexes, homeowners associations and municipalities among its clients.
"At times like this, it's essential to be diversified as a company and find work in several different avenues," said Hill.
At a one-on-one consulting session at the SBDC, Hill explored the certification requirements for disadvantaged business enterprise status. "My stepfather, who owns the company, is Hispanic," he said.
Hill also attended workshops on prime and subcontractor networking and the bidding process.
"It can be very intimidating to go to the Internet and pull up a contract of 250 pages, but once you go through the classes, you see how easy the process is and realize you're only bidding your small part," he said.
Courses Scheduled
Point Loma Nazarene University is the venue for the workshops and attendance is limited to 40 people. Three courses scheduled for May 19-20 address financial statements, cash-flow management and how to grow capital for a business. Classes scheduled for July 30-31 include business and marketing plans, proposal development and administration, and general business management issues. The year's final workshops, on Aug. 27-28, cover architectural and engineering services, disadvantaged business enterprise certification, and pre- and post-Caltrans award audits.
One-on-one consulting is available by appointment on Wednesdays at the SBDC's Oceanside offices. Participants can reserve course space or sign up for counseling by calling the SBDC at (760) 795-8740. Additional information is available at www.sandiegosmallbiz.com and www.buildcalifornia.org.
Bond Steers Funds Toward Projects
The $19.9 billion transportation bond approved by California voters in 2006 continues to churn out money for new projects. With numerous Caltrans contracts coming up for bid, "There are opportunities for small businesses to participate on their own and also as subcontractors," said Garcia.
San Diego usually generates 25 small contracts annually for Caltrans projects ranging from about $200,000 to $5 million. "These smaller contracts are typically awarded to small businesses , especially when there is plenty of work for the larger contractors, such as now," said Garcia.
Larger Caltrans allocations include five contracts totaling $450 million to continue work on managed lanes for Interstate 15. One of these contracts has already been awarded. Widening and expansion work is under way on Interstate 5, where a $45 million contract has been awarded.
As for new freeway construction, Caltrans was recently engaged in a $75 million contract on Interstate 905 in Otay Mesa and is advertising another I-905 contract valued at $85 million. On state Route 52, four current projects to widen and extend the freeway total $250 million, with $60 million still outstanding.
Sylvia Tiersten is a La Mesa-based freelance writer.