SCS Engineers Finishes Demolition Work at Barrio Logan Project
Monday, March 24, 2008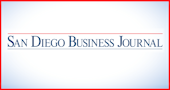 Progress Report
Long Beach-based SCS Engineers has completed demolition and preliminary excavation for the redevelopment of La Entrada, an 84-unit affordable housing project in Barrio Logan. The demolition consisted of tearing down 21 structures and excavating the site to make way for a parking structure.
- - -
Construction is complete on Oceanside Terraces, the six-story, 113,000-square-foot mixed use project located at 301 Mission Ave. in Oceanside. More than 70 percent of the combined commercial retail and office space has been sold for $8 million and three leases have been signed for $2.15 million. The property is being developed by the Janez Group.
- - -
Walls have been erected for the new 96,481- square-foot office building located on the east side of Interstate 15 at Scripps Ranch. The three-story building sits on 6 acres. The project is slated for completion in August with Bycor Construction serving as the general contractor.
- - -
Bonsall-based RQ Construction has been awarded a $14.8 million contract to design and build temporary lodging at Camp Pendleton. The new facility will include 48 guest rooms and 21 suites with outdoor patios/balconies, a reception area, exercise room and children's playground. Work is slated for completion in May 2009.
- - -
Construction is complete for the 43,796- square-foot remodel of Qualcomm Inc.'s two-story caf & #233; and health center facility, located at the company's corporate campus in Sorrento Valley. The project, which began in January 2007, entailed the new build-out of the lobby, caf & #233; and kitchen on the first floor. Roel Construction served as the general contractor on the project.
- - -
Irvine-based Ware Malcomb has completed design and construction on Ruffin Road Business Plaza, a two-story office building located at 5055 Ruffin Road in Kearny Mesa. Work on the 48,000-square-foot building began in February 2007. K.D. Stahl Construction Group of Poway served as the general contractor on the $3.8 million project.
- - -
San Diego-based RSI Roofing has signed a contract with Padre Dam Operation Center to re-roof 11,000 square feet at 9120 Carlton Oaks Drive in Santee.
- - -
Nobel Executive Center has earned an energy efficient designation from the Environmental Protection Agency and Department of Energy. The 115,571-square-foot office building located at 3655 Nobel Drive was built in 1987 and recently had significant modifications completed to earn the designation.
, Andrew Schweizer