Gym Owner Thinks Urban Dwellers Eager to Get Slim Fast
Monday, March 17, 2008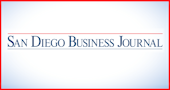 Scott Lutwak, who developed and owns Fit, a posh, new health club in the East Village, says he's confident that downtown's growing population of young urban professionals will gladly fork over $120 a month to belong , shaky economy notwithstanding.
"Look at all those condo buildings. They're 80 percent rented," Lutwak said, standing on the outdoor patio of the gym, which occupies all 46,000 square feet of DiamondView Tower's second floor, that offers views of Petco Park and the city's skyline.
In the wake of the real estate downturn, a glut of condo projects that went unsold downtown are now being rented by the accomplished, trendy set between the ages of 25 and 45. Although many of the buildings have workout rooms, they don't come close to matching Fit, nor do they offer the camaraderie, Lutwak emphasizes.
"Fit is about community. The price point is not a concern," he said. "People are not pushing back. They'll drive a less expensive car before they give up their health club membership."
Not A Basic, No-Frills Gym
The fee is roughly three times what one might expect to pay at a basic, no-frills gym. But Fit, which combines the latest in technologically advanced exercise equipment with the kind of amenities found in a swanky nightclub or hotel , an interior water wall, outdoor patio with cabanas, a fire pit and pool , is not your ordinary gym.
And, unlike Fit, those centers usually charge extra for such offerings as yoga and pilates, Lutwak points out.
Additionally, Fit sports a lounge with computers and wireless Internet, cardio machines with plasma TVs and iPod docks, steam rooms, dry saunas and a Japanese meditation garden.
The $10 million facility, now partly operational, has already signed up 1,500 members.
A grand opening is slated for mid to late April and Lutwak says he expects the count will soon increase to 6,000 or more.
It is the third of a Houston-based chain of high-end health clubs that Lutwak and his partner, Jack Tomkins, own.
Their first is four and a half years old and the second opened this month in Houston.
Fit's A Hit
According to the January edition of Houston Modern Luxury magazine, the first Fit is among the top 5 percent of the highest-grossing health clubs in the United States.
Lutwak says it has annual sales of $7 million with a profit margin that ranges between 20 percent and 30 percent and that the $3 million in financing obtained to open it was paid off in three years.
To open the local club, which started construction a year ago, he says he obtained $5 million in financing, including a line of credit. Its monthly rent is $130,000 on a renewable 15-year lease.
The club employs 100 people, including several veteran trainers.

Lutwak, 41, who moved from Houston to rent an apartment at the Icon building across the street from DiamondView last year, is among downtown's growing population of professionals.
But fitness wasn't always his thing. A former college wrestler who graduated from the University of Oklahoma, the Chicago native worked for a time in the petroleum industry and lived in Russia for several years before returning to the United States in 1999 to reside in Houston.
Help From Friends
That same year, with a little financial help from friends and family, he went into business for himself as the founder and chief executive officer of Restaurant.com, a site that sells discount coupons for eateries nationwide.
He took on partners and, six years later, sold his share of the business for an undisclosed sum.
Shortly after that he renewed his interest in exercising and working out. But when he went in search of a gym and found none to his liking, he realized there was a niche in the industry that could be filled with a high-end fitness center such as Fit.
"I'm a marketing and branding guy," he said.

Lutwak also developed Crome, one of Houston's hottest nightclubs, near the first Fit, and says he plans to open a nightclub close to the local Fit, thinking that the two would feed off each other since the velvet rope crowd and fitness buffs are one and the same.
"A bar is inevitable, given the community following Fit will have," he said. "But I'm not going to jump now."
It's not as if he doesn't have enough on his plate since talks are ongoing for a fourth Fit to be located in Houston.