Week In Review
Monday, June 30, 2008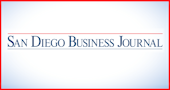 Friday, June 20
Jobless Meter Registers Higher: San Diego's unemployment rate jumped to 5.5 percent in May, up from 5.1 percent in April and well above the year-ago jobless rate of 4.1 percent, the state Employment Development Department said.
The local rate was above that of the nation at 5.2 percent, but below California's rate of 6.5 percent for the same month.
Unemployment was close to a five-year high, set in June 2003 when it was 5.7 percent.
About 6,500 more people became unemployed in May, while the overall civilian labor force grew by 7,300 people, causing the rate to rise, said Barbara Ruehl, an EDD spokeswoman.
, Mike Allen
- - -
Travelers Take More Lindy Hops: Lindbergh Field saw a 5.1 percent increase in the number of passengers flying in and out during May , a statistic that would have been higher if not for the double-digit decline in those taking international flights.
According to the air traffic report from the San Diego County Regional Airport Authority, a total of 1.57 million passengers flew on domestic routes in May, up 5.6 percent compared with 1.49 million during the same month one year ago. There were 18,099 passengers who took international flights in May, down 24.6 percent from 24,001 in May 2007.
In all, Lindbergh Field logged a total of 1.59 million passengers last month for a year-over-year increase of 5.1 percent.
, Connie Lewis
Monday, June 23
Insurer Pays $5.5M In Fines, Penalties: Unum, a Tennessee-based provider of group life insurance, agreed to pay $5.5 million in fines and penalties to the federal government after failing to disclose special fees it was paying to an unnamed San Diego-based insurance broker, in a signed agreement arranged by the U.S. attorney's office in San Diego.
According to federal prosecutors, from 2000 to 2004, Unum made payments of certain fees without disclosing them to the insurance plan administrator, which resulted in the higher premiums.
The disclosure of fees was required by the Employee Retirement Income Security Act of 1974, known as ERISA.
Prosecutors agreed to a settlement with Unum because of the company's complete disclosure of the conduct; its cooperation with investigators at the Department of Labor, the Internal Revenue Service, the FBI and the U.S. Postal Service; its remedial actions to correct past practices; and the relative lack of the company's culpability when measured against the conduct of the local insurance brokerage, which was identified in the agreement as "Insurance Broker A."
, Mike Allen
Tuesday, June 24
Series C For Cell Phones: Del Mar-based GreatCall Inc. said that it received $38 million in Series C venture funding.
GreatCall operates the Jitterbug wireless telephone service marketed for customers age 55 and older.
Court Square Ventures of Charlottesville, Va., led the round, which also included existing investors Steelpoint Capital Partners LP, which has a San Diego office; Charles River Ventures of Waltham, Mass.; and Nauta Capital of Barcelona, Spain. Company founders Martin Cooper and Arlene Harris also participated in the round.
The company said Sumitomo Corp. participated in the round with full conversion of previously issued notes.
GreatCall said it will use the capital to build out more sales channels and develop its services, applications and devices.
, Brad Graves
- - -
Hospital District Cuts Back: Palomar Pomerado Health, which manages a hospital district covering 800 square miles, said that it is cutting 86 employees to help offset upcoming patient care costs.
Managerial positions eliminated included an auditor, finance director, pharmaceutical services director, admitting access area manager and an accounting supervisor. Non-management positions included workers in clerical, financial services and environmental services departments.
Bob Hemker, Palomar Pomerado's chief financial officer, said the district faced a $9.8 million increase in the fiscal year that begins July 1.
To balance the costs, he said the district cut jobs, reduced work hours and eliminated vacant positions, resulting in $7.5 million in savings. It also reduced its overtime pay budget, saving $2.3 million.
The district operates hospitals in Escondido and Poway.
, Heather Chambers