GreatCall Picks Up $38M in Series C Funds
Tuesday, June 24, 2008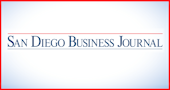 Del Mar-based GreatCall Inc. said June 24 that it received $38 million in Series C venture funding.
GreatCall operates the Jitterbug wireless telephone service marketed for customers age 55 and older.
Court Square Ventures of Charlottesville, Va., led the round, which also included existing investors Steelpoint Capital Partners LP, which has a San Diego office, Charles River Ventures of Waltham, Mass., and Nauta Capital of Barcelona, Spain. Company founders Martin Cooper and Arlene Harris also participated in the round.
The company said Sumitomo Corp. participated in the round with full conversion of previously issued notes.
GreatCall said it will use the capital to build out more sales channels and develop its services, applications and devices.
, Brad Graves