Redevelopment of Bay View Plaza Under Way
Thursday, June 19, 2008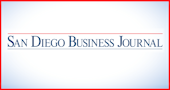 Demolition will soon begin to redevelop the 1950s-era Bay View Plaza at Clairemont Drive adjacent to the Best Western Mission Bay Hotel.
The City Council on May 27 approved the project, clearing the way for developer C.W. Clark Inc. of La Jolla to begin construction on the 4.5-acre mixed-use retail, commercial and office complex.
The new plaza will have 66,000 square feet of retail, including a drug store, specialty grocery store, restaurants, and coffee shop to serve nearby guests and area residents.
"City Council approval is an exciting milestone on the road to development of a much-anticipated new shopping center," said Craig Clark, president and CEO of C.W. Clark.
Site construction should begin this fall with completion by the end of 2009.
C.W. Clark has more than $500 million in commercial, hotel and urban residential real estate development under way in San Diego County, Arizona and Oregon.
, Ned Randolph