Submarina Franchise Hits Shore in New Escondido Location
Monday, June 16, 2008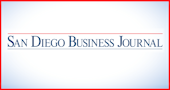 San Marcos-based sub shop operator Submarina Inc. opened its 57th Southern California location May 31 in Escondido.
Now operating 62 locations in five states, Submarina says it plans to add 40 more stores in 2008.
Tami Heaston is the franchisee of the south Escondido store, located at 343 W. Felicita Ave., which is one of three to 10 outlets set to open in the county this year.
Qualifying candidates can open a Submarina franchise for fees ranging between $218,000 and $342,000, including the $25,000 franchise fee.
Submarina also sells wraps, melts, salads and party trays.
- - -
Designs On North County: Mercedes-Benz has purchased a Carlsbad property where it plans to relocate its Irvine advanced design studio in July.
The site at 2250 Rutherford Road was occupied by Chrysler LLC before the company closed its Pacifica Advanced Design Center in mid-March.
Mercedes also has design studios in Germany, Japan and Italy.
The automaker, a division of DaimlerChrysler, did not disclose the price it paid for the Carlsbad property, but the listing price was $7.3 million.
The 13,000-square-foot Irvine facility, Mercedes' first in the U.S., opened in 1990. The Carlsbad location is twice the size of the Irvine facility.
Send retail news to Liz Wiedemann at lwiedemann@sdbj.com.