It's High Tide for Surfboard Makers Rushing to Fill Clark Foam's Void
Monday, June 16, 2008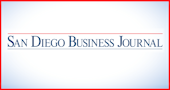 Depending on who you talk to, the surfboard making industry is either drowning, holding on or ready to catch another big wave.
One thing that no one disputes: After Clark Foam shuttered its surfboard blank production facility in Laguna Niguel at the end of 2005, the industry changed.
When Clark, an international maker of the polyurethane blanks that make up the core of surfboards, unexpectedly shut down operations, it triggered a cataclysmic shift throughout the industry that is still being felt.
"Clark had a legitimate monopoly and probably controlled 90 percent of the world market. When it pulled out, there was a worldwide panic," said Tim Bessell, a maker of surfboards since 1971 whose Bessell Surfboards business has been in La Jolla for more than 20 years.
Into the vacuum created by Clark's exit, new businesses were formed, sourcing their board blanks from places such as Australia, China, Mexico and South Africa.
The local market became saturated and prices plunged, especially on boards made in China, said local board makers.
The Chinese boards were usually copies from local creators, and mass-produced at far cheaper prices.
For Bessell and other top name brands such as Rusty and Channel Islands Surfboards, the foreign made, less expensive boards haven't hurt businesses much, he said.
"Last year was a banner year for me. We doubled our sales," Bessell said. A large part of his increased sales came from overseas, particularly Europe and Japan, thanks to a devalued U.S. dollar, he said.
Small Shops Stinging
However, many small board shops are hurting, and a few, such as Steve Ford's West Coast Glassing Inc. in Encinitas, were forced out of business.
Ford said Chinese boards that sell wholesale for $175 undercut his boards. Surf shop retailers, which usually use boards as loss leaders to lure customers, were marking up the cheaper boards 200 percent, resulting in far higher profit margins. The demand for regional boards slacked off, Ford said.
"I've been in this industry since 1982, and never had a summer that bad, ever," he said of last year. "I tried to keep my door open, hoping that things would get better but they didn't."
As business went downhill, Ford said he lost his home and marriage. Now he's still working as a shaper, renting out space from another local manufacturer.
While some of the less expensive Chinese boards have defects, the average beginning surfer wouldn't know the difference, he said.
Dave Brown, who owns DB Surfboards in San Diego, said that after Clark went out of business, he stopped making boards for about six weeks because finding blanks was so difficult. For the year, he produced only 150 boards, he said.
Last year, as the supply of blanks increased, Brown produced 500 boards. This year, he says he'll do between 800 to 1,000 boards. He declined to disclose sales.
Like Bessell, DB is benefiting from the weak dollar, and more converts to surfing in Europe. About 30 percent to 40 percent of its sales were from exports to places like England, Ireland and Spain. Brown's boards are geared to experienced surfers and are a bit more costly, ranging from $475 to $2,000.
"Our boards are custom-made and for higher end buyers," he said.
Competitive Undercurrent
Sean Smith, executive director of the Surf Industry Manufacturers Association in Aliso Viejo, said the biggest impact from Clark Foam's closure was more competition, especially from foreign makers. That has caused a big surplus in boards and lowering of prices.
While top brands and specialty board makers are doing fairly well, Smith said some small makers have been hurt, but he was unable to provide numbers.
He said there could be hundreds of shapers in the Southern California region.
The shift set in motion a new direction in the industry with new manufacturers experimenting with new materials and formulas, and that has benefited consumers, Smith said.
"I think the consumer is better off," he said. "The innovations that have been made starting in 2005 and through the next 10 years are going to be far greater than what took place in the 30 years before Clark Foam closed."