JA's BizTown Buzzing With High School Entrepreneurial Awards
Monday, June 2, 2008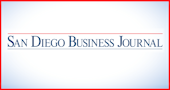 Junior Achievement of San Diego and Imperial Counties and Point Loma Nazarene University recently held a student entrepreneurial competition at JA's BizTown. Awards were given to high school students with the most profitable and most socially responsible companies, and those who produced the most original products. Students from Morse High School, Mission Bay High School, San Diego Metropolitan Regional Career and Technical High School were the winners this year.
- - -
The Minority Corporate Counsel recently recognized Sony Electronics, which has operations here in San Diego County, for its commitment to diversity by hiring, retaining and developing intelligent and talented individuals in its legal department.
- - -
The American Heart Association presented its annual award for staff excellence to Virginia Gatlin, chief operating officer of field operations and development for the association's Western States Affiliate. The award recognizes exceptional leadership, professionalism, dedication and excellence.
- - -
Patricia A. Yim Cowett, a retired Superior Court judge, was presented with the Joan Dempsey Klein Distinguished Jurist Award. She was selected for her excellence as a jurist and long-standing service and inspiration to female lawyers.
- - -
Michael Grad, president and chief executive officer of Timely Medical Innovations, received the 2008 Bill Ivans International Trade Award at the San Diego World Trade Center's annual Global Logistics Symposium. The Carlsbad-based business makes disposable medical products.
- - -
Senior Community Centers held its annual Heroes Luncheon on May 9. Among honorees were employees of the Albertsons store in East Village and Qualcomm Inc. The event, presented by Kelly Capital, was sponsored by Union Bank of California, Bank of America, Qualcomm, Sempra Energy and U.S. Bank to raise money for elderly services, including housing assistance and nutrition programs.
- - -
San Diego Lesbian, Gay, Bisexual, Transgender Pride will honor local AIDS Project co-founder Dr. Keith Vrhel at this year's Spirit of Stonewall Champion of Pride event scheduled for July 14 at the W Hotel. This award is given to individuals who demonstrate outstanding leadership and made exceptional contributions in the past year.
- - -
North County Community Services was the beneficiary of Invitrogen Corp.'s fifth Global Volunteer Day. Employees took four hours of paid time to help work on local projects, including one at North County Community Services to make playground improvements. Other volunteers spent time at Carlsbad's Batiquitos Lagoon, cleaning up trash and pulling up invasive plants.
- - -
Cox Communications ranked No. 6 on the DiversityInc magazine's top 50 corporate ranking for diversity. This is the third consecutive year that Cox has been recognized for diversity in the workplace by the publication.
- - -
The International Academy of Digital Arts and Sciences has given Mingei International Museum recognition for its new Web site.
- - -
San Diego-based Architectural Concepts Inc. received two awards from the American Resort Development Association at a national convention in Las Vegas recently.
Please send Kudos items to contributing writer Joyce Glazer at jglazer@sdbj.com.