Geary Exec Helps Companies Tap the Potential of the Internet
Monday, June 2, 2008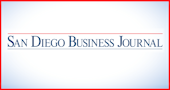 BY MARK LARSON
A native of Karlsruhe, Germany, 34-year-old Andreas Roell is the chief executive officer and president of Geary Interactive, a San Diego-based online marketing agency.
Founded in 2000, Geary has a staff of 68 and offices here, in San Francisco and in Las Vegas. It has an estimated 40 clients, including Toys "R" Us, American Apparel Inc. and beauty aid retailer philosophy.
Roell says the online marketing option is still being discovered, and companies are trying to figure out how best to embrace it. Last week he sat down with the Business Journal contributor Mark Larson to answer key questions about his growing industry and its future.
Question: What are three examples of digital media's impact on print media and traditional broadcasting, both television and radio?
Answer: A significant amount of marketing budgets have been shifting to online media from traditional media. The other shift we're starting to see is how online advertising has started to integrate with print, radio and TV. In the past, we were working on our own. Research shows us there is good interdependence between all of the channels. If a client does a TV spot, we can follow up on a search engine to make sure we integrate in creating types of media. I believe all analog channels will have a digital component to it. TV will have interactive TV, car radios will be equipped with Internet technology like GPS (Global Positioning System) and outdoor billboards will be digital. Analog marketing will change significantly during the next three years.
Q: Do young professionals under age 30 watch TV, listen to radio or read a
newspaper?
A: They still are. Each has a purpose in life. The amount of time spent on each of those media has been reduced. They're spending more time online to get information. They listen to the radio online. The younger audience will watch TV, but with a computer on their laps to follow up on information they get from "American Idol" or "MTV." It's a medium that fits their way of life. The attention span of a younger audience is very short.
Q: What's been the impact of Google on the advertising industry?
A: Google has a love/hate relationship with the advertising community. The love is for bringing innovative product offerings to marketers. Search advertising and online advertising have boomed because of Google, and it has significantly changed the game for us as marketers. Their ad rates are the same for small companies as they are for large ones. That's very significant.
On the flip side, the hate relationship comes from them sometimes overstepping the territory a little bit. They kind of walk in like a rebel on his horse, calling an agency's client directly. That happens when their agency group doesn't talk to their sales group. I attribute that to them growing so large. But 70 percent to 80 percent of Google has been a wonderful addition to the ad world.
Q: What local companies are involved in digital technology?
A: KidZui.com, it's an Internet browser for kids, so all they have access to is kid-friendly content.
Q: A recent national survey found San Diegans to be pretty savvy, digitally speaking. Do you agree?
A: I'd probably say yes. In San Diego we have the military, research companies for national defense, biotech companies. If you look at the education level and the demographics of San Diego, it should correspond with the high-technology adopters you get in the survey.
Mark Larson is a freelance writer for the Business Journal.