La Jolla Retail Building Sells for Eye-Popping Price
Monday, July 28, 2008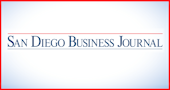 There is no doubt that the overall weakness in the housing market, rising gas prices and decreased levels of consumer spending have affected San Diego's retail market.
A Grubb & Ellis|BRE Commercial midyear report says retail vacancy rates rose to 3.2 percent countywide for the first half of the year compared with 2.2 percent in 2007.
However, high incomes, stable employment and high barriers to entry have kept retailers interested in the San Diego market, the report says.
Especially downtown La Jolla, a 30-block area filled with high-end retailers, restaurants and offices.
One building in the 7600 block of Girard Avenue rented by a trio of antique dealers recently sold for $6.6 million, or $616 per square foot.
The countywide average price per square foot in 2007 was $287 for properties with 2,500 square feet or more, according to broker Colliers International San Diego.
Mike Slattery, a Grubb & Ellis|BRE Commercial broker who represented the seller, Girard Avenue Investments LLC, along with Trenton Bonner of Trenton Bonner Coastal Real Estate, says such lofty prices per square foot are not uncommon in the La Jolla Village sub-market.
Slattery, who has concentrated on the market for more than 20 years, says the price per square foot for retail space ranges from $500 or $600 to more than $1,000 in the Prospect Street and Girard Avenue area.
Upgrades Planned
The 10,700-square-foot property recently sold is home to Ark Antiques, Pied-e-Terre, and Skolout and Tilghman. The new owner, Broadway & 9th LP of San Diego, plans to upgrade the building but keep all three tenants.
Slattery says that there is always high demand in La Jolla for retail tenant space.
He says he currently has five offers for a 1,750-square-foot retail space on the 1000 block of Prospect. Offers are coming from a jeweler, art gallery, wine shop and national clothing chain.
"It is not a matter of just finding a tenant. It is about finding the right tenant. You really have to qualify people to make sure their intentions are sincere and they have the staying power and can generate the sales," said Slattery.
Slattery says most leases in La Jolla Village are negotiated and signed before the old tenant even moves out. He says in this sub-market, even a vacant storefront is a leased storefront.
High-end tenants opening retail stores in La Jolla Village in the past year include Fairfield-based Papyrus and Colorado-based Pharmaca Integrative Pharmacy.
Danish-based Bang & Olufsen is one of La Jolla's newest retailers. The audio and video products manufacturer and retailer opened a 3,650-square-foot showroom on Girard Avenue last month. A representative says La Jolla was ideal but did not reveal lease agreement details, including rent.
Vancouver, British Columbia, Canada-based retailer lululemon athletica, an athletic apparel business focused on yoga-inspired clothing, signed a lease for space on the 7800 block of Girard. Lululemon will take the place of Rumors, a clothing store that closed this summer, and is expected to open this fall.
A spokeswoman for lululemon declined to provide the details of the lease but said that "La Jolla is an excellent fit for our brand, being a community filled with healthy, fit people and lots of yoga and fitness studios."
Average countywide monthly asking rents per square foot for retail space decreased from $2.21 as of year-end 2007 to $2.03 in the first half of 2008.
Expensive Real Estate
The Girard Avenue and Prospect Street retail corridor made Colliers International's top 10 most expensive retail sub-markets nationally this spring. Colliers reported rents averaged $100.20 per square foot per year, or $8.35 per month per square foot.
The only U.S. sub-markets with more expensive rents were M Street in Washington, D.C., Las Vegas Boulevard in Las Vegas, Lincoln Road in Miami and Walnut Street in Philadelphia.
The supply of retail space available in La Jolla and the county overall remained low in the first half of the year. Many vacancies are located in older strip malls and less desirable locations, says Grubb & Ellis.
CB Richard Ellis is marketing three La Jolla Village properties: a free-standing, 5,000-square-foot retail building in the 7400 block of Girard Avenue for $2.5 million, or $500 per square foot; a 7,350-square-foot retail or office building in the 1200 block of Prospect for $5 million, or $680 per square foot; and a 5,100-square-foot multi-tenant retail building in the 1200 block of Girard for $12.5 million, or an astonishing $2,419 per square foot.
This last building is anchored by New York City-based Nicole Miller women's fashions, Argentina-based La Martina, a polo equipment and attire retailer, and Mexico-based Emilia Castillo, a jeweler.