Union-Tribune on the Block
Thursday, July 24, 2008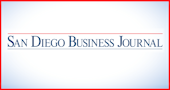 Copley Press Inc., the San Diego parent firm to The San Diego Union-Tribune, said July 24 that it hired an investment banking firm to sell the company.
In a statement posted on the daily newspaper's Web site, SignOnSanDiego.com, the company cited tough times in the newspaper industry and the depressed real estate market as reasons for seeking a buyer. The firm hired to shop the paper is New York City-based Evercore Partners.
"The last couple of years have been a difficult period for the newspaper industry, especially those in a real estate-dependent market like San Diego," said Harold W. Fuson Jr., Copley's executive vice president. "We have every reason to believe the business will rebound with the economy, but the uncertainties pose too great a risk to sit still."
Since the death of former Publisher Helen Copley in 2004 and the assumption of the title by her son, David, rumors of the sale of the U-T have surfaced occasionally. Stung from a gradual slide in both its weekday and Sunday circulations, and an increasing loss of advertising, the company has slashed expenses by cutting hundreds of jobs in recent years.
Copley also sold off smaller dailies that it owned in Los Angeles and in the Midwest in 2006 and 2007.
The paper now has about 1,000 employees.
Privately held Copley doesn't reveal revenues. Circulation on weekdays was said to be more than 300,000, and about 350,000 on Sundays, ranking the paper as 21st among U.S. dailies, the company said.
, Mike Allen