Week in Review
Monday, July 7, 2008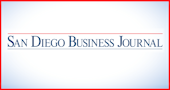 Friday, June 27
State Bestows Stem Cell Funds: A governing board with the state's stem cell agency awarded $24 million in grants to help fund collaborative research on specific diseases and injuries and to further advances in new lines of human embryonic stem cells.
San Diego researchers garnered almost $5 million from the California Institute for Regenerative Medicine, a $3 billion state-funded agency created by the passage of Proposition 71.
A majority of the funding , $4.7 million , will go to scientists with the Burnham Institute for Medical Research, Salk Institute for Biological Studies and UC San Diego who will come up with new methods in pluripotent human stem cells, the kind of cells that self-renew and can turn into almost any other type of cell in the human body.
Steven Dowdy, a UCSD professor of cellular and molecular medicine and Howard Hughes Medical Center investigator, will use a $1.4 million grant for finding new approaches to generating stem cell lines from human skin.
The rest of the $5 million, or $266,898, will be used to begin assembling multi-disciplinary teams that will help prepare proposals for some major upcoming disease team grants. Scientists with the Burnham Institute, Novocell Inc., Salk Institute and UCSD will collaborate on the project.
San Diego-based stem cell engineering company Novocell, which received $48,950, was the lone for-profit entity on the grants list. In February, Novocell said it had discovered a way to coax human embryonic stem cells to evolve into insulin-producing cells to control blood-sugar levels in mice with diabetes.
, Heather Chambers
- - -
City Wins Round In Legal Fight: The city of San Diego prevailed in another court hearing in a case it has been litigating since 1993 against Roque de la Fuente, a local developer.
Superior Court Judge Linda Quinn ruled that de la Fuente's allegation that the city breached a 1986 agreement cannot proceed to trial because of noncompliance with government claims procedures, said City Attorney Michael Aguirre.
Kristin Wilkes, an attorney with the city's contracted law firm, Latham & Watkins LLP, said de la Fuente has proposed settling the case in recent weeks for $300 million.
In 2001, a Superior Court jury awarded de la Fuente $94.5 million in damages stemming from allegations that actions the city took caused severe financial losses to his Border Business Park in Otay Mesa.
The city appealed the award, and has won several different court battles in recent years with judges setting aside parts of the verdict and overturning other parts.
New court trials in Superior Court ordered in 2006 ended in separate defeats to de la Fuente, who appealed the decisions.
In the most recent rulings, the city was awarded $1.3 million in legal fees, while the city is seeking an additional $8 million in costs to defend itself in the ongoing litigation, Aguirre said.
, Mike Allen
Monday, June 30
Acquisition In Store: Overland Storage Inc., a San Diego provider of data storage systems, said that it acquired the networked and desktop storage appliance business from Milpitas-based Adaptec Inc. for $3.6 million, with $2.1 million to be paid in cash at the closing and the remainder paid over 12 months.
Overland said Adaptec's Snap Server leads the networked and desktop storage appliance market with 200,000 units shipped. The acquisition will add $18 million in annual revenue to Overland's run rate, the company said.
, Mike Allen
- - -
A Shining Star: Southern California Gas Co. said it received a U.S. Environmental Protection Agency 2008 Energy Star award.
The regulated subsidiary of San Diego-based Sempra Energy was designated the Leadership in Housing award for the utility's contribution to energy-efficient and environmentally friendly home construction.
Homes that earn the EPA's Energy Star qualification must be at least 15 percent more energy-efficient than homes built to the 2001 International Residential Code and include Energy Star-regulated appliances, heating, cooling and lighting.
Since 2002, the company (known for short as the Gas Co.) has sponsored more than 1,000 Energy Star homes. In total, those homes will save Gas Co. customers $450,000 on utility bills, according to the EPA.
"Energy Star-qualified homes are better homes that cost less to own, protect our environment, reduce our reliance on imported energy and improve our economy," said Sam Rashkin, national director of the Washington, D.C.-based Energy Star for Homes.
, Liz Wiedemann
Tuesday, July 1
Starbucks To Shutter Stores: Starbucks Corp. said it plans to close 600 underperforming company-owned stores and eliminate up to 12,000 full- and part-time positions, the most in its history.
The Seattle-based coffee retailer, which has 58 San Diego stores, did not identify which locations would be affected.
Starbucks said closures are spread across all major U.S. markets, with 70 percent of those stores opened since the start of fiscal 2006.
The total includes 100 previously announced store closures, part of Chief Executive Officer Howard Schultz's initiative to slow the chain's expansion after it doubled in size in four years.
Starbucks estimated that total pretax charges associated with the planned closures, including costs associated with severance, would be in the range of $328 million to $348 million.
The coffeehouse chain said it will shut down underperforming stores gradually through March, at which time Starbucks expects the change to boost earnings $100 million per year, it said.
Starbucks said it will try to place workers from closed stores in remaining Starbucks locations, also saying that the company will open fewer than 200 U.S. stores in 2009, down from 250 previously announced.
, Liz Wiedemann