Local Gyms Not Feeling Crunch of Recession So Far
Monday, July 7, 2008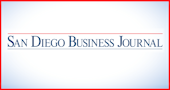 As businesses tighten their belts while riding out rocky times, San Diegans remain worried enough with their waistlines to keep the health club industry afloat.
Alden Perando, manager of UrbanBody Gym & Juice Bar in Hillcrest, says membership is up 10 percent over last year, an average annual percentage increase since the gym's 2003 opening.
"We have noticed higher gym usage from people who didn't come in as often in the past," Perando said. "They're already paying a monthly membership fee, so it seems they've decided to take advantage of it more now, and it gets them out of the house."
UrbanBody monthly membership fees range from $29 to $49, Perando says, depending on initiation fees.
Average daily attendance at the end of 2007 was between 160 and 180 people, Perando says, and now that figure has grown to more than 200 visitors, with 1,150 members enrolled.
Only 15 percent of the U.S. population is health club members, while more than 21 percent locally are members, according to the Boston-based International Health, Racquet & Sportsclub Association.
That makes San Diego ninth on IHRSA's 2007 ranking of highest health club membership numbers in major U.S. cities.
IHRSA spokeswoman Rosemary Lavery said membership levels remained flat nationwide at 41.5 million as of January 2008.
"The members in the clubs are still spending money on products and services not related to their dues such as massage, acupuncture and nutrition counseling," Lavery said.
Niche Services
Mark Dion, owner of the mixed martial arts gym and training centers City Boxing, says it's the small niche of world champion trainers his business offers which makes it recession-proof.
Dion charges $109 per month or $1,199 for an annual membership at his City Boxing centers on Garnet Avenue in Pacific Beach and on 14th Street.
"That sounds expensive to the average person, but the benefit comes from our trainers, who are all credentialed, world champion martial artists," Dion said. "Other gyms may charge under $40 per month, but for any guidance or training, members pay an extra $60 per hour for a trainer who doesn't have nearly the qualifications (as City Boxing trainers)."
The active local community is good for the fitness industry, but it means competition, says Dion.
"Southern California cities are ranked at the top for fitness, so if you can make it as a business here, you can definitely make it in Oklahoma," he said.
Dion admits that the slowing economy is taking a toll, but keeping overhead low has helped ease the blow.
Economically Viable
YMCA of San Diego County is the second & #173;-largest chapter in the nation with 14 branches. The gyms are accessible to all economic brackets and financial assistance programs are available, says Pattie Griffin, local vice president of marketing and communications.
Griffin said that the local YMCA chapter had 286,509 members at the start of summer of 2007 and currently has 297,539 this summer.