American Red Cross Receives $1.65M for Disaster Preparedness
Monday, July 7, 2008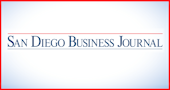 The American Red Cross San Diego/Imperial Counties Chapter received $1.65 million in grants from the Akaloa Resource Foundation, including $1 million that will go toward the startup of Prepare San Diego, a disaster preparedness initiative. Red Cross also received an annual grant of $500,000 to support ongoing local disaster services. The remaining $125,000 will support improvements in the Red Cross Service to the Armed Forces program.
- - -
The Second Harvest Food Bank for San Diego was awarded $217,000 from the Emergency Food and Shelter Program to purchase food for 44 regional charities that help feed the hungry and homeless. "The success of EFSP relies on dozens of community agencies working together to help San Diegans with food and shelter in time of need," said spokesman Scott Suckow.
The Voices for Children auxiliary, Makua, held its annual Wild, Wild West on May 31 at NTC Liberty Station. The $205,000 raised will benefit the programs of Voices for Children. San Diego National Bank and Island Prime Restaurant were among the sponsors.
- - -
The Center for Community Solutions (CCS) netted $135,000 at its 9th annual Tea on the Town held at the Marriott San Diego Mission Valley. Nordstrom Inc. and HD Supply Facilities Maintenance were co-sponsors. Other sponsors included Cox Communications Inc., Croce's and Cubic Corp. CCS provides a complete range of sexual assault and domestic violence prevention and intervention services.
- - -
Home Start Inc. has received a $10,000 grant from St. Germaine Children's Charity to be used to fund parent-child relationship counseling for low-income adults in southeast San Diego. Parents in bilingual parenting education classes will be given assistance from Home Start with the program funding.
- - -
A Reason To Survive (ARTS) held its fourth annual fundraising gala at the ARTSea Caf & #233; on May 17 at the Scripps Institution of Oceanography. The event was sponsored by Ruth Westreich and the Westreich Foundation and raised $80,000, which will be used to further ARTS programs dedicated to healing, inspiring and empowering children facing life challenges.
- - -
The 19th annual Dirce Schwarz Memorial Golf Tournament benefitting TERI, an Oceanside-based nonprofit organization, was recently held at the Rancho Bernardo Inn Golf Course. Dave Dewhurst and Doug Dewhurst chaired the tournament and Dewhurst & Associates sponsored the event which raised $43,000. The funds will benefit TERI's Center for Research & Life Planning. The center supports children with autism and other development disabilities.
- - -
The American Heart Association held its 5th annual Monopoly Night Gala on May 30 at the Hotel del Coronado. The event raised $200,000, which will go toward fighting heart disease and strokes.
- - -
The North County Humane Society & SPCA held their second annual Paws to Celebrate event at the Sheraton Carlsbad Resort. French Gourmet and Baha Betty's were among the sponsors. The $82,000 raised will benefit animals rescued by the Humane Society.
- - -
Robert Shillman, chairman and CEO of Cognex Corp., donated $26,000 to the Serving Older Holocaust Survivors program of Jewish Family Service through a program provided by the United Jewish Federation of San Diego County. The program serves low-income Holocaust survivors, providing vital services, including home-care, ongoing care management, advocacy, emergency funds, transportation and translation.
- - -
Point Loma Credit Union awarded scholarships to recent graduates from local high schools. Breanna Berry, Shannon McClintock and Nailah Spruill each received a $2,500 scholarship. "These young people are exceptional and have bright futures ahead of them," said Ted Dennis, credit union president and CEO.
- - -
The San Diego Charity Cup soccer tournament raised $7,000 for the Center for Healthier Communities at Rady Children's Hospital. The program held June 22 at Mar Vista High School is designed to give children with mental or physical disabilities the opportunity to learn to play soccer.
Please send Giving items to contributing writer Joyce Glazer at jglazer@sdbj.com.