Qualcomm Plans Extensive Remodel of Seven-Story R & D; Building
Monday, January 21, 2008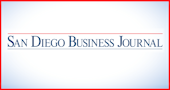 Progress Report
Design is under way for the 18,500-square-foot remodel within Qualcomm Inc.'s seven-story research and development building in Sorrento Mesa. San Diego-based Architects | Delawie Wilkes Rodrigues Barker provided design services on the project. The work focuses on redesigning interior portions of the first, second and third floors, which house the corporate research and development engineering labs. Construction is scheduled for completion in April with Swinerton Builders as the general contractor.
- - -
Tappan Enterprises, owner of Parkwest Court, a 50,431-square-foot office building located at 16885 W. Bernardo Drive in Rancho Bernardo, is within six months of completing $500,000 worth of renovations to the building. Work includes new exterior paint, enhancing landscaping and resurfacing a parking lot. The interior remodeling began in the third quarter of 2007 with completion planned for the second quarter of 2008 and includes new paint, flooring and lighting. Watkins Landmark Construction and OCJS Contractors lead the project, with H2A Architects providing planning for the renovations.
- - -
Construction is complete on the three-story building located at 1264 Laurel Tree Lane, Suite 100, in Carlsbad that houses a shared services center and a 24 Hour Fitness. The facility consists of 50,000 square feet of office space on the upper levels and 39,000 square feet of fitness facilities on the first floor. Lusardi Construction served as the general contractor for the project.
- - -
Two neighborhoods are opening in the development of Del Sur, located north of state Route 56 near Camino Del Sur. Mandolin, developed by Shea Homes, offers 55 homes in three- to five-unit configurations. The two- and three-story floor plans range from 1,643 to 2,333 square feet, offer two to four bedrooms and 2.5 to 3.5 baths. Pasado, developed by William Lyon Homes, offers three two-story floor plans ranging from 2,047 to 2,360 square feet and offers three to four bedrooms. Prices for both start in the $500,000s.
- - -
Brookfield Homes is opening its newest neighborhood, Serenity at The Estates at StoneBridge, located east of Scripps Ranch on StoneBridge Estates Parkway. Pricing for the homes begins in the high $800,000s. The 63 two-story units range from 4,040 to 4,759 square feet and offer five or six bedrooms and 4.5 baths. The lots that the homes sit on range from 11,234 to 26,705 square feet, which provide ample room for four-car garages included as standard items with the residences.
- - -
San Diego-based Johnson & Jennings General Contracting has completed tenant improvement construction on Paramount BioSciences LLC's new offices, located on the 15th floor at 4565 Executive Drive in Sorrento Valley. The 8,414-square-foot project included remodeling the lobby and building offices, conference rooms and secretarial stations.
, Andrew Schweizer