Stem Cell Agency to Offer $41M in Awards
Thursday, January 17, 2008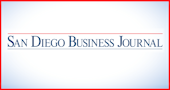 An independent oversight committee with the state's stem cell agency approved a measure Jan. 17 that will provide additional grant money to 14 young scientists pursuing stem cell research.
In December, the California Institute for Regenerative Medicine granted $54 million to 22 young scientists and physician-scientists as part of its New Faculty Awards initiative. Five San Diego scientists , one from UC San Diego, two from the Salk Institute and two from The Scripps Research Institute , were awarded a total of $13.2 million in grant money.
The newest initiative, called New Faculty Awards II, will provide as much as $41 million for salary and research support for up to five years.

The agency said it anticipated releasing application requests in February. After the applications were reviewed by the agency's grants working group, the oversight committee would further evaluate applications in August.

The awards were designed to support cutting-edge human and animal, adult and embryonic stem cell research.
, Heather Chambers