Neurocrine Biosciences Chief Resigns
Monday, January 14, 2008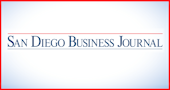 On the heels of a decision to lay off 130 employees as part of a major restructuring effort, Neurocrine Biosciences Inc. said Jan. 14 that Chief Executive and President Gary Lyons resigned and will be replaced by Chief Operating Officer Kevin Gorman.
Lyons will continue to serve as a board member.
"While this was a very difficult decision for me, I believe the time is right for a change in leadership of Neurocrine," Lyons said in a prepared statement.
Neurocrine said Dec. 13 that it would lay off 130 of its San Diego employees to refocus efforts following disappointing news about its insomnia drug candidate indiplon. It said it planned to have 120 employees following the layoffs.
The FDA was seeking additional data on indiplon, which was first denied approval by the agency in May 2006. Neurocrine called the news a "setback" in its news release after the close of trading Dec. 13.
Shares of Neurocrine, traded on Nasdaq as NBIX, closed up 3 cents, or less than 1 percent, at $5.30 on Jan. 14.
, Heather Chambers