Ad, Marketing Agencies Seek Creative Ways to Stretch Tightening Budgets
Monday, January 7, 2008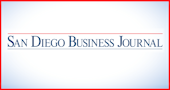 Despite recession fears, sources in local advertising and marketing industries expect that clients' budgets will remain flat this year compared to last. However, caution is the byword.
"I don't see budget increases," said Jonathan Bailey, chief executive officer of Bailey Gardiner, a San Diego-based agency that offers public relations, marketing and advertising services. "Everyone is being more careful and more focused on ROI, and that really helps because they can better measure the success of a campaign or its components overall.
"That way they can justify to themselves or their shareholders why this or that campaign is continuing or there will be more spending in a particular area. I foresee a lot more of that happening."
Bailey also predicted that there will be a continuing shift in advertising dollars from traditional methods of print and broadcast media, or "old media," toward the Internet, or "new media," since he sees more companies venturing in that direction and achieving their goals.
"Clients who never before invested dollars in that arena (the Internet) are now paying attention and dabbling in it with good success," he said. "They're seeing the return, so they will do more and do different combinations of things."
While the combinations might include new and old media, "experiential marketing" , a new term for guerrilla marketing, or "connecting with the consumer on a one-on-one level in unexpected ways" , could also be part of the mix.
Attracting Attention
A simple example of experiential marketing is when somebody hands something to a consumer as they're walking down the street, Bailey said.
The aim is to be attention grabbing. Stilt walkers with handouts, drink coasters with imprinted messages, even peanuts with messages on the bags fit the bill, he added.
Experiential marketing also includes having a potential buyer interact with or sample a product.
"Today's younger consumers have become so jaded that traditional advertising does not work with them," he said. "They want to make their own choices. They want to be in control of what they're choosing to buy or do."
To that end, word-of-mouth advertising and public relations, as well as media relations directed at garnering publicity, also have become increasingly important, Bailey said.
Such arteries of the information superhighway as blogs and social networking sites have expanded the possibility of reaching broader audiences through public relations, he added.
Tom Gable, who heads the local Gable PR, said he expects that declines in spending for marketing and advertising in some areas will be offset by increases in others.
"I think the industry is going through some changes because of the real estate market," Gable said. "The homebuilders are watching their budgets, so that can be a tough thing for agencies. Also in that same food chain you have lending institutions and mortgage brokers that are experiencing similar tightening."
Growing Industries
At the same time, though, tourism in the county , its third-largest industry behind defense and manufacturing , is expected to continue growing, as are the life sciences, wireless, information technology and biotechnology industries, he said.
"There's an emerging area in San Diego called wireless medicine and with that they're linking patient monitoring technology with cell phones," he said. "So from the standpoint of public relations there's a need to communicate to a broader audience and help differentiate these products."
But that also means it is incumbent on the public relations industry to "get more professional" in its ability to communicate the complexities and technical aspects of these developments and products, he stressed.
"Editors and reporters get 100 to 200 pitches a day, so how do you break through the clutter?" he said. "You look at the complexities of what you're selling, to whom, how you tell the story and you tell it in a human voice. That's becoming more important.
"So I think what is happening is that PR professionals are trying to get more professional."
According to TNS Media Intelligence reports, the nation's total advertising expenditures in the first nine months of 2007 grew by a slight 0.2 percent to $108.2 billion as compared to the same year-ago period, while total spending in the third quarter was up 1.3 percent, making up for declines in the first half of the year.
Among the top 10 U.S. advertising categories, the biggest spending gain during the first nine months of 2007 was seen in direct response, 15.1 percent, followed by financial services at 5.5 percent. As to losing categories, the domestic auto industry had the sharpest decline at 9.1 percent, followed by personal care products with an 8.3 percent drop. Advertising for foreign-made autos was down 6.1 percent. Travel and tourism was off 0.1 percent, while local services and amusements were up 2.3 percent.