Horatio Alger Award Going to Bob Beyster
Wednesday, January 2, 2008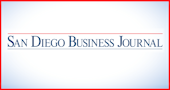 SAIC founder Bob Beyster is in line to receive the Horatio Alger Award.
The Horatio Alger Association of Distinguished Americans, based in Alexandria, Va., plans to give the award to the 83-year-old businessman and to nine other people during ceremonies set for April in Washington, D.C. According to the association, the award goes to individuals who have overcome adversity to achieve great successes through the American free enterprise system.
Beyster founded SAIC in 1969 in a small La Jolla office next to a ballet studio. The defense contractor and engineering company is now an $8 billion, publicly traded company.
SAIC's current chairman and chief executive, Ken Dahlberg, issued a statement of congratulations Jan. 2, saying Beyster was "most deserving" of the recognition.
Beyster has long been an advocate for employee-owned companies and serves as chairman of the Foundation for Enterprise Development.
Last year's Horatio Alger award winners included Sid and Jenny Craig, founders of the weight-loss company with roots in San Diego County.
, Brad Graves