Life Technologies, Novocell Receive Stem Cell Agency Grants
Thursday, December 11, 2008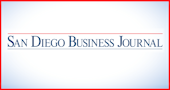 A governing board for the state stem cell agency voted Dec. 10 to approve more than $19 million in funding for a new round of grants intended to accelerate stem cell research.
Two San Diego biotech companies were among six for-profits considered for the tools and technologies grant money.
Life Technologies, a maker of tools for drug discovery which recently merged with Carlsbad-based Invitrogen, and Novocell, which is using human embryonic stem cells to develop treatments for diabetes, were named grant recipients by the California Institute for Regenerative Medicine.
The Scripps Research Institute also won two grants and UC San Diego took another.
Critics had called for CIRM to increase its awards to for-profit biotechs that were working to advance stem cell research.
"These awards represent the entry of the biotechnology industry into CIRM-funded initiatives to accelerate progress," said Alan Trounson, president of CIRM, in a statement.
Of the funded grants, 17 were from not-for-profit and six were from for-profit organizations.
, Heather Chambers