In the Lab
Monday, December 8, 2008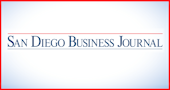 A partnership forged between two competing drug companies has produced scientific results that show the potential for a new class of drugs aimed at fighting heart failure.
Researchers demonstrated for the first time that they could reverse heart failure in mice by treating the rodents with an experimental gene-silencing drug made by Carlsbad-based Regulus Therapeutics. Regulus was formed in September 2007 as a joint venture between antisense drug pioneer Isis Pharmaceuticals of Carlsbad and Alnylam Pharmaceuticals, a leader in the emerging area of RNA interference.
Regulus' so-called antisense drug targets microRNA, the tiny strands of ribonucleic acid that regulate the switching "on" or "off" of genes. Mice treated with injections of the drug three times a day showed improvements in heart size and function within three weeks, according to research results.
Results of the study were published online Nov. 30 in the scientific journal Nature.
The new findings provide evidence that tiny pieces of genetic material can play a key role in the development and progression of heart disease.
"It validates the whole field of microRNA therapeutics," said Regulus Chief Executive Kleanthis Xanthopoulos. "It shows the potential to provide new medications that are first in class."
Discovered In Worms
MicroRNAs, first discovered in 1993 in worms and 2001 in humans, have emerged as a promising new drug target. Researchers say microRNA drugs hold the potential for treating complex diseases like diabetes and heart failure. Scientists at Regulus and others involved in the research are investigating more than 60 microRNAs that are associated with a wide array of diseases.
In the most recent study, Regulus researchers narrowed their studies to a particular type of microRNA, called miR-21, which act to regulate key functions in a type of heart cell called the cardiac fibroblast.
The drug works by imitating the body's natural mechanisms by silencing the tiny chemical processes that disrupt the heart's regular functions.
"We're hoping nature is smarter at regulating its pathways," said Peter Linsley, chief scientific officer at Regulus. "By mimicking how nature has done this, we'll be able to block pathways without many side effects."
The new research underscores the importance of RNA technology, a growing area of research that Big Pharma has also shown interest in.
In April, GlaxoSmithKline signed a deal with Regulus valued up to $600 million to develop and market new microRNA-targeted treatments for conditions caused by chronic inflammation, such as rheumatoid arthritis and inflammatory bowel disease.
Billion Dollar Markets
A drug with the potential to reverse heart failure in humans could reach billion dollar markets.
Heart failure, sometimes referred to as congestive heart failure, is a condition involving inadequate blood flow to the body's organs. It affects 5 million people in the United States each year and results in 600,000 deaths. Hospitalization costs associated with heart failure have been estimated at $35 billion nationwide.
"This is, hopefully, a segue to the future," said Dr. Eric Topol, a cardiologist and genetics professor at The Scripps Research Institute.
Gene silencing techniques offer greater precision than most drugs being developed today, Topol said. Unlike drugs that identify a single protein or gene, microRNA inhibitors are selective drugs that target entire networks of genes.
"Understanding that one of these regulatory elements of the genome has so much impact on the heart muscle function is a big step forward," Topol said.
Although the drug prevented heart failure in mice, it remains to be seen whether the drug would work in humans.
Scientists often use mice for conducting experiments because their responses to drugs are frequently similar to humans, but inherent differences between animals and humans makes the research unpredictable.
Xanthopoulos said human studies could begin as early as 2010. First, it would look to test the effects of the drug on larger animals with heart tissue that more adequately resembles the human heart.