Intense Trade Pulling South County Through Retail Slump
Monday, December 1, 2008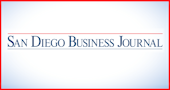 Things don't stand still in southern San Diego County. They roll.
South County has multiple lanes of concrete and asphalt reaching toward the international border. Eighteen-wheeled trucks carry all manner of freight through the border crossings.
The signs are that trade will grow even more robust. In November, the Bush administration gave initial approval to a permit for a new U.S.-Mexico border crossing at Otay Mesa, to the east of the current Otay Mesa port of entry.
The movement of goods across the border is hot in the South Bay.
The import/export business grew by 12 percent from 2006 to 2007, from $28.8 billion to $32.2 billion, according to Alejandra Mier y Teran, executive director of the Otay Mesa Chamber of Commerce. Imports were roughly double exports during the same period.
Mier y Teran has no trade statistics for 2008, just anecdotal information. She said she still sees significant lines of trucks, but has heard the number of trucks may have decreased slightly in the last few months.
"All California (economic) indicators are pointing down," she said. "International trade is pointing up."
Transportation projects "are in very, very good shape," she added.
In addition to the prospect of a new border crossing, Otay Mesa has seen its first year with the completed South Bay Expressway, a toll road that introduced the first free-flowing highway to the traffic-clogged region. Manufacturers are moving to Otay Mesa because of the road, says Mier y Teran. She reports 13 new manufacturers in the last 24 months. "We're hoping to attract biotechnology firms," she says.
New businesses on their way to the region include a distribution center for Washington state-based Costco Wholesale and a facility for Tennessee-based FedEx, she said.
Interstate 905, the area's first true freeway, is a few years away from arriving , but when construction is completed in the spring of 2012 it will tie Otay Mesa's existing border crossing to the toll-free roadway system.
People have traditionally set up civilizations next to rivers, Mier y Teran said. Today it's highways.
A Road Not Taken
Not all visions for the South Bay have turned into reality.
For a while it looked as though the region's convention and visitors industry, which has its center of gravity in downtown San Diego, might spill over to the South Bay. That idea suffered a blow Nov. 17 when Tennessee-based Gaylord Entertainment confirmed it would abandon plans for a $1 billion hotel and convention center slated for the Chula Vista bay front.
Redevelopment could still happen on the bay front. "Someone will come in and do a deal," said Dan Biggs, president of the South County Economic Development Council.
The Chula Vista-based council is trying to focus on business retention as well as the recruitment of new businesses, says Biggs, who runs two Internet-based businesses. One of the EDC's biggest jobs is getting the word out about the area's enterprise zone, which offers tax breaks to businesses in certain sections of National City, Chula Vista and Otay Mesa. Also in the works is an economic development effort concentrating on the region south of Interstate 8 and spanning both San Diego and Imperial counties. That's according to Cindy Gompper-Graves, the South County EDC's chief executive officer.
One of the biggest businesses in the South Bay is the Aerostructures unit of North Carolina-based Goodrich. Originally known as Rohr, the plant manufactures nacelles, the cowling around jet aircraft engines.
Goodrich is a major subcontractor to Boeing, the Chicago-based aerospace and defense company. The 58-day machinists' strike at Boeing, which ended in November, set back production schedules and forced Goodrich to lay off 116 workers in Chula Vista and Riverside, spokesman Jeff Hulewicz said.
On a different note, the company had 86 engineering and technical positions open at its Chula Vista plant last week. Goodrich has 2,000 employees there.
"Like everybody else we're not immune to the economic downturn," Hulewicz said. But the market for spare parts is good , and it's worldwide , and that can help the company through rough times in the economy, he said.
Hulewicz said the company will soon ramp up work on a brand-new aircraft model: Boeing's 787 Dreamliner. Boeing's rival, Airbus, is working on a competing aircraft , the A350 XWB , and Aerostructures has a piece of that, too.
In addition, the company will make parts for a new Pratt & Whitney jet that will power smaller aircraft made by Bombardier and Mitsubishi.
Retail news from the South Bay is mixed.
The 21 auto dealers that comprise the Mile of Cars provide a good chunk of National City's sales tax income. But sales tax figures reveal business is flagging. City tax income derived from the autos and transportation sector, which includes sales of new and used cars, fell to $1.2 million during the second quarter of 2008, down 30 percent from the same period one year ago.
"They're definitely being hit hard," says Jacqueline Reynoso, chief executive of the National City Chamber of Commerce. Total second-quarter sales tax revenue in National City was 15.3 percent lower compared to the like period a year ago, according to the city. Yet other areas are still seeing "a healthy level" of retail traffic. The Plaza Bonita shopping center, which recently went through a $115 million makeover, is a bright spot, Reynoso reports.