Gene Silencing Drug Shown to Block Heart Failure in Mice
Monday, December 1, 2008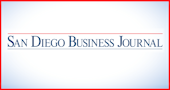 A partnership forged between two former competitors has produced new scientific data that shows the potential for a new class of drugs aimed at fighting heart failure.
Researchers at Carlsbad-based Regulus Therapeutics said Nov. 30 that they were able to prevent heart failure in mice by treating the rodents with an experimental gene-silencing drug. The so-called antisense drug targets a tiny strand of ribonucleic acid called miR-21 which is overactive in humans with heart failure.
Regulus' drug, designed to block miR-21, prevented changes to the heart muscle in mice and reversed the condition in mice that had already developed the disease.
Regulus, a joint venture of Cambridge, Mass.-based Alnylam Pharmaceuticals and Isis Pharmaceuticals of Carlsbad, published results of the study online in the scientific journal Nature.
"We view this new study as a landmark event in the advancement of microRNA therapeutics as a new class of innovative medicines," Regulus Chief Executive Kleanthis Xanthopoulos said in a statement. "We believe that this is the first study to clearly demonstrate therapeutic efficacy for targeting microRNAs in an animal model of human disease."
MicroRNAs, first discovered in 1993 in worms and 2001 in humans, have emerged as an important class of small RNAs encoded in the genomes of humans, plants and animals.
The new research underscores the importance of RNA technology, a growing area of research that shows potential for treating complex diseases like diabetes and heart failure.
, Heather Chambers