Job Rate, Hiring Remain Bleak Across Many Sectors
Monday, August 25, 2008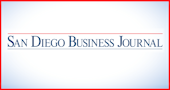 The fact that San Diego's unemployment rate rose to 6.4 percent in July, its highest mark since October 1995, didn't shock many economic observers, who say the signals for a turnaround aren't evident.
"The difference back then was we were coming out of a recession, and the unemployment rate was coming down. This time it's rising, and I don't think we'll see it go down by the end of the year," said Kelly Cunningham, an economist at the San Diego Institute for Policy Research, a privately funded think tank.
Until December 2007, the area's unemployment was fairly predictable , lowest at the end of the year and into the early part of the year, buoyed mainly from an uptick in temporary holiday jobs. It usually tapered off in the middle of the year, reaching the trough in July when colleges and universities were on summer break, and lots of students were seeking work.
Construction Hit Hard
But last December, instead of declining, the rate rose from the mid-4 percent range to 5 percent. It's been rising ever since, and likely will average above 6 percent for the year.
The obvious culprit is the housing bubble bursting, with the steepest job losses locally being felt in construction, down by 7,500 as of July, from July 2007, and in the mortgage finance industry, which has lost about 4,700 jobs during the past 12 months, according to the latest state Employment Development Department report.
During the past year, regional employment has decreased by 4,600 jobs, which sounds bad, but is not as bad as some other regions, Cunningham notes.
Orange County is down by about 30,000 jobs; Riverside and San Bernardino counties are down by about 25,000; and Los Angeles has lost a net of about 15,000, he said.
Except for government-funded and infill projects, construction has slowed to a crawl. Many home builders with offices here have shipped out as financing has dried up and lending standards tightened.
"There's just not any work," said Nanci Porter, president of the Eastridge Group of Staf & #173;fing Cos., a San Diego-based temporary employment firm. Most of the skilled workers are doing lower-end jobs, and the less experienced workers were cut, Porter said.
Eastridge's assignments in both its general services and light industrial are way off from last year. However, certain industries are still doing well, particularly high-technology, defense, and health care services, Porter said.
The fallout from a surge of foreclosures, mostly caused from inferior underwriting practices using 0 percent or low-interest mortgages that reset to higher rates, is still reverberating throughout the financial services industry.
"The credit crunch has locked out a lot of people from the market, and we have to dig a lot harder for qualified customers," said Ed Smith, a mortgage broker with 25 years of experience and president elect of the California Association of Mortgage Brokers.
At its peak in 2006, Smith's business employed eight people, including six loan originators. Today, it's down to Smith and his assistant.
Within the past year, the statewide trade association has declined by abut 2,300 brokers, Smith said.
Some of the biggest job cuts have come at the largest financial institutions. Seattle-based Washington Mutual Inc. shed about 300 jobs in the county this year as it shuttered four mortgage origination centers and a loan processing center.
The contagion affected other lending activities such as HSBC Auto Finance, which laid off 400 employees at its Kearny Mesa offices recently when the corporation decided to stop making indirect auto loans.
Yet not all sectors of the economy were getting hit the same. San Diego's ever-morphing, high-tech industry continued creating jobs, while the defense industry here was also showing signs of growth.
For example, Northrop Grumman Corp.'s Unmanned Systems Development Center was expanding by 200 jobs thanks to a $1 billion-plus contract award to create Global Hawk drones for the Navy. Most of the jobs would involve engineers, including software, systems, structural and mechanical specialists. Other jobs were in accounting, finance, contracts and pricing, said spokeswoman Cynthia Curiel.
The drone center now has 1,628 employees, but combined with several other units in San Diego, Northrop Grumman has more than 4,000 employees.
Intuit Inc., the Mountain View software firm that operates its TurboTax unit here, recently cut 24 people as part of a company-wide reduction of 575 jobs, due to a restructuring. The effect was minimal here because of an overall gain in jobs created by the surging popularity of the tax preparation software. Total employment during the past year at Intuit's Carmel Valley offices has actually increased by about 1,000 people, said spokesman Scott Gulbransen.
A positive thing is that the region's economy is generating new jobs, but they are mostly knowledge- and skilled-based, Porter said. Many businesses that use Eastridge's temporary workers are either scaling back or holding steady, reluctant to expand until there are clearer positive signs, she said.
"There's a lot of strategizing going on," she said. "This is a different situation than we've ever seen before because of all the banking and mortgage problems."