San Diego People
Monday, August 18, 2008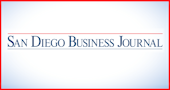 Baker & McKenzie announced that Ali M.M. Mojdehi has been elected managing partner. In addition to his responsibilities as managing partner, Mojdehi will continue to serve as chair of the North American Financial Restructuring, Creditors' Rights and Bankruptcy Practice Group. Mojdehi joined Baker & McKenzie in 1988. Mojdehi is a member of the American Bar Association and served on the board of California Bankruptcy Forum. He is also a former member of the Bankruptcy Rules and Practice Committee of U.S. Bankruptcy Court, district of Delaware and served as chair of the Chapter 11 Rules Review Committee of U.S. Bankruptcy Court, Southern District of California.
Banking and Finance
LM Capital Group LLC announced the addition of Carolyn Geisler-Lustfield and Todd Crescenzo. Geisler-Lustfield will serve as senior vice president, research and Crescenzo will serve as vice president, research. Geisler-Lustfield will be responsible for the gathering and analysis of macroeconomic data from sources around the world and specific data on individual corporate issuers. Crescenzo has more than nine years of experience in the capital and commodities markets.
Paul Sandoval has joined Downey Savings as vice president in the major loan department. Sandoval has more than 40 years of experience in the financial services industry.
CBIZ Inc. and Mayer Hoffman McCann P.C. announced that David Diamond will serve on the board of directors of Kreston International. Diamond will help direct Kreston International's objectives in the tax and accounting industry.
Construction and Design
Nadel Architects, through the acquisition of Urban Design Studios, has added Doug Pearl as vice president and managing partner. Pearl was previously the founder and chief executive officer of Urban Design Studios.
Education
Grossmont College announced the addition of Dan Clauss as assistant football coach. Clauss played tight end on Grossmont College's football team in 1994 and 1995. He has returned to the college as an outside linebacker coach.
Government and Nonprofit
The San Diego Regional Chamber of Commerce named Lani Lutar vice president of public policy. Lutar currently serves as president and CEO of the San Diego County Taxpayers Association where she manages public policy and advocacy efforts, including research, analysis and lobbying.
LEAD San Diego has elected five new members to its board of directors. The members will implement the 2008-2009 business plan approved for the organization. Marla Brayshay Black, senior vice president and regional manager, Union Bank of California; Michelle Brega, vice president market development manager, Bank of America; Thomas Fleming, president, San Diego Data Processing Corp.; Edward Kitrosser, managing partner, Moss Adams LLP; and Armon Mills, president and publisher, San Diego Business Journal, will serve on the board.
Health Care and Biotech
BioBlocks Inc. named Warren Wade as director of medicinal chemistry. Wade previously served as director of medicinal chemistry at Neurocrine Biosciences.

Regulus Therapeutics LLC appointed Garry Menzel as executive vice president of corporate development and finance. Menzel previously served as managing director for Goldman Sachs and Credit Suisse.
Law
Procopio Cory Hargreaves & Savitch LLP announced that partner Sandra Shippey has been appointed to Uniform Commercial Code Committee of the Business Law Section of the State Bar of California. As a member of the committee, Shippey will focus on development of commercial law in California.
Real Estate
Realtor Abdul Kassir has joined Willis Allen Real Estate's Coronado branch office. Kassir has more than 25 years of combined experience in marketing and sales in a variety of industries.
Retail
Luctor International named Jacob Mutscheller as Southern California sales manager. Mutscheller, a San Diego State University graduate, brings more than six years of industry experience to the company.
Hospitality and Tourism
Sandiego.com Inc. appointed James Earwicker as CEO and member of the board of directors. Earwicker joins the company after more than 18 years with Wells Fargo.
Technology and Manufacturing
Illumina Inc. announced the ap & #173;point & #173;ment of Mostafa Ronaghi as senior vice presi & #173;dent and chief technology officer. Ronaghi will be responsible for leading the technology development effort at Illu & #173;mi & #173;na.
, Compiled by Kevin Black