Mission Valley Mall Takes First Steps Toward Expansion
Monday, August 18, 2008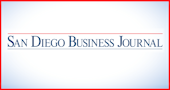 Australian retail center owner Westfield took the first step to expand its Mission Valley shopping center on Aug. 5.
Westfield submitted a request to update and amend the existing old community plan, which would allow Westfield to proceed with a smart-growth, mixed-use expansion of its existing footprint.
"We are constantly looking at ways to reinvest and reinvent our properties," said Jonathan Bradhurst, vice president of development for Westfield in San Diego. "Revitalize them and keep them really relevant."
Bradhurst said Westfield has been working on the proposed mixed-use expansion project, which consists of retail, residential and either office or hotel use, for nearly a year. He did not release cost estimates.
The proposed expansion calls for an additional 500,000 square feet of retail space, 450,000 square feet of office or hotel space and up to 250 residential units, all on the existing 60-acre site.
The existing center consists of more than 1.3 million square feet of retail space, including three major department stores and movie complex.
If this request is approved, the environmental review and community involvement phase of the project would begin, Bradhurst said.
"There is an opportunity to create something that is so much more than what it is today," said Bradhurst.
The developer, who owns several shopping centers in San Diego, including Horton Plaza, Westfield Plaza Bonita and Westfield Parkway Plaza, is also working to redevelop another shopping center.
Westfield invested seven years of planning into a proposed expansion at Westfield UTC before receiving approval on July 29 from City Council.
This $900 million, mixed-use expansion could bring the city of San Diego more than $60 million in annual sales and property tax revenues, more than 2,500 new full- and part-time jobs and more than 6,000 construction jobs, according to Westfield.
Plans at UTC include up to 300 residential units, 750,000 square feet of retail space, 5,000 square feet of office space, and several new restaurants.
"We are going to take all the things that we have learned from UTC and from our other major developments in the U.K. and Australia and apply it to Mission Valley," said Bradhurst.
- - -
USD Launches Second Real Estate Program: The University of San Diego's Burnham-Moores Center for Real Estate will launch its second continued education program next month.
The certificate in land-use and sustainable community development program, which starts Sept. 4, is for professionals interested in better understanding land-use decisions and processes including entitlements, permits and the environmental impact report assessment.
The program is for geared toward architects, attorneys, civil engineers, developers, planners and other land-use professionals.
Lou Lightfoot, president of Carlsbad-based Lightfoot Planning Group, will instruct the first class in the program, "Managing the Entitlement Process." This class meets Thursdays in September from 6 to 9 p.m.
The new program consists of seven courses.
A spokeswoman for Burnham-Moores Center reported record number of students enrolled in fall semester for its masters of science in real estate program.
A total of 27 students will take classes in the masters program this fall. In addition, nearly 400 students have attended Burnham- & #173;Moores' Real Estate Finance, Investment and Developments certificate program since being offered in February 2006.
- - -
Aguirre Files Suit Against SEDC President: San Diego City Attorney Mike Aguirre filed a complaint for breach of contract Aug.8 against embattled Southeastern Economic Development Corp. President Carolyn Smith. The complaint alleges that the SEDC agreed not to incur any cost or expense in excess of the approved budget and it is believed that Smith approved compensation for herself and others in excess of the amount authorized and approved in the annual budget.
Smith, who has been an employee of the SEDC since 1984, allegedly approved large bonuses for both herself and staff exceeding their based pay by more than $1 million over the past five years. It is estimated that she approved more than $70,000 for herself in the past two fiscal years.
Send real estate news to Michelle Mowad at mmowad@sdbj.com. She may also be reached at 858-277-6359, ext. 3109.