Three Local Architects Partner to Launch New Firm
Monday, August 11, 2008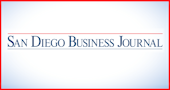 Three former Roesling Nakamura Terada Architect employees recently started a new firm. Christopher Bittner, Garrick Oliver and Anney Rosenthal formed OBR Architecture in June and are seeking work on a variety of public sector and residential projects.
Oliver, employed as a project manager and associate architect at Roesling Nakamura Terada, has worked on education, historical adaptive reuse, fire stations, residential, and municipal projects.
Bittner is a New School of Architecture graduate and spent 11 years with Roesling Nakamura Terada.
Rosenthal is a LEED-accredited professional and spent nine years with her former employer.
"We all separately were looking to what was our next step and we decided to take that step together," said Rosenthal.
The trio is seeking space in North Park.
- - -
Liberty Calls: La Jolla developer C.W. Clark Inc. said in late July that Marketplace at Liberty Station in Point Loma is now 75 percent leased. Five new leases totaling more than 13,000 square feet were recently signed by tenants, including a salon and two restaurants.
New tenants are Ekiru Sushi, It's All About The Girl, a party and special events center, JoL Salon, Omni Dental, and Tender Greens restaurant.
- - -
Border Work: KMA Architecture and Engineering was awarded a contract by the General Services Administration to design upgrades to mechanical systems for 13 customs inspections booths at the Otay Mesa Port of Entry.
The value of the contract was not disclosed.
KMA's project team includes project manager Jim Belmont, electrical designer Jay Guerrero and mechanical designer Billy Jennings.
The general contractor is San Diego-based Hernandez Construction Corp.
Design work is set to be completed this month.
- - -
Excellence In Landscaping: Two dozen local landscape contractors were honored for excellence in landscape installation and maintenance as part of the California Landscape Contractors Association's San Diego chapter 2008 Beautification Awards.
The local chapter of the trade association gave 58 awards in 31 categories to 22 local contractors from 118 entries. Award categories included residential and commercial landscape installation, maintenance and renovation, water features, outdoor lighting and water-efficient design.
The top three awards were given to DeMaria Landtech Inc. of Solana Beach and Enchanted Landscape Inc. of Rancho Santa Fe for residential projects, and The Brickman Group of San Diego for work at the Villas at Rancho Valencia in Rancho Santa Fe.
- - -
ESub Is Hot Tech: ESub Inc., a local provider of Web-based project management software, was recognized as one of Constructech magazine's Hottest Companies for 2008. The publication presents the annual award to the most prominent technology providers within the construction industry. ESub was one of 16 businesses selected.
The software allows subcontractors to track project labor and project changes online.
Wendy Swift, president and chief executive officer of eSub, says subcontractors don't get paid for the work they do, they get paid for the work they document.

Send real estate, construction, design and urban planning news to Michelle Mowad at mmowad@sdbj.com. She may also be reached at 858-277-6359, ext. 3109.