Sempra Reports Earnings for Latest Quarter
Thursday, August 7, 2008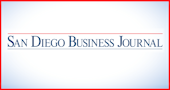 Sempra Energy, parent of San Diego Gas & Electric, reported Aug. 7 second quarter net income of $244 million, or 98 cents per diluted share, compared to net earnings of $277 million or $1.05 per share in the like quarter of 2007.
For the first half, Sempra had net income of $486 million, down 4 percent from $505 million in net income for the prior year's first half.
Despite the decline, Chairman and CEO Donald Felsinger said the company is ahead of meeting its 2008 financial goals, and made significant progress in the expansion of its natural gas business.
Sempra increased earnings guidance for all of 2008 to a range of $3.80 to $4 per share, up from the previous guidance range of $3.65 to $3.85 per diluted share.
Shares of Sempra Energy, traded on the New York Stock Exchange under SRE, were up about $1 to about $57 in midday action. The stock's 52-week range is $48.58 to $64.21.
, Mike Allen