San Diego People
Monday, August 4, 2008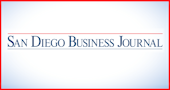 Francesca Bestetti has been named project manager for RJC Architects. Bestetti, a LEED certified architect, will be responsible for managing all aspects of renovations and additions to the Educational Cultural Complex at San Diego Community College.
Before joining RJC Architects, Bestetti worked with several local design firms on residential and institutional projects such as transit-
oriented, mixed-use, high-rise condos and a training facility for people with disabilities. Bestetti received her bachelor's and master's degrees magna cum laude in architecture from Polytechnic of Milan.
Banking and finance
Excel National Bank has named William McGaughey executive vice president, director of capital markets. McGaughey has more than 30 years of experience in executive leadership, accounting and finance.
John Brackett has been named vice president of business banking at First Business Bank. Brackett will be responsible for business and strategic development.
Construction and Design
Ferguson Pape Baldwin has announced the promotion of Axel Probst to associate. Probst has 32 years of experience in architecture and has been with the firm for six years. Emily Schauermann has been promoted to senior job captain and Amanda Parks has been promoted to job captain.
Environmental Consulting
3E Co. has appointed Kevin O'Hare to chief financial officer and Joe Lawless has been appointed to vice president of global sales. O'Hare has more than 25 years of global industry experience. Lawless joins the company from Princeton Softech, an enterprise data management company that was acquired by IBM in 2007.
Hospitality
The Shores Restaurant has hired Lisa Redwine as restaurant manager. Redwine previously served as general manager and hotel wine director at Molly's Restaurant and Bar. She has more than 10 years of managerial experience in the food and beverage industry.
Miscellaneous
Angles BeautyCare Group has hired Gary Allen as Western regional sales manager. Allen will focus on developing distribution in the western United States and enhancing existing distributor relationships.
Christine Robinson, president of Air Quality Testing Services Inc., has been appointed to the Indoor Environmental Standards Organization's third-party standards review committee. Robinson has more than 20 years of experience in building science, land development and environmental projects.
Paul Downey is the new president-elect for the National Association of Nutrition and Aging Services Programs' board of directors. Downey will also act as co-chair for the association's first joint conference with the Association of Nutrition Services Agencies.
The San Diego Regional Aviation Association has elected Grant Wright of Wright on Communications Inc. its president. Steve Nielsen, director of aviation at Avalon Capital, will serve as vice president. Austin Blue, president of Spectrum Aeronautics, will serve as secretary and Chris Nielson, chief pilot at VC Jets, will serve as treasurer.
Heather Ashby has joined the Gaslamp Quarter Association as marketing manager and will oversee its marketing functions.
Real Estate
LBA Realty has named John Garrigan leasing director. Garrigan will be responsible for the marketing and leasing of the firm's properties throughout the San Diego area.
Willis Allen Realtor Sherry Shriver has joined the Institute of Classical Architecture and Classical America. Shriver has more than 25 years of real estate industry experience.
RedHill Realty Investors has promoted Dimple Shah Seeliger to managing director of its capital markets group. Seeliger will be responsible for identifying and managing capital relationships, including institutional and private clients.
Technology and Manufacturing
Castle Access has appointed John Giaquinta to the position of vice president of sales and marketing. Giaquinta has more than 25 years of experience in launching startup telecommunications companies and guiding Fortune 500 companies.
Feed Co. has appointed Troy Snyder to executive producer, vice president of Akamai Technologies, as a nonexecutive director for the company. Snyder served as chief executive officer of Nine Systems, a rich-media software firm, until the company's acquisition by Akamai Technologies in 2006.
Bob Barlow has been named president of the Time Warner Cable San Diego division. Barlow will be responsible for the company's local cable broadband operations.
, Compiled by Kevin Black