Airport Authority Delays Awarding Contract for $10M
Monday, August 4, 2008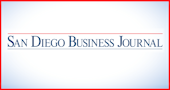 Plans for a $10 million modular building to accommodate the increasing number of workers at Lindbergh Field were put on hold last month because of the struggling economy and uncertainties surrounding the airline industry.
The board for the San Diego County Regional Airport Authority, which manages the field, delayed awarding a contract to build the two-story structure last month, without discussing the issue.
A contract not to exceed $10 million was to be awarded to Perris-based Modtech Holdings Inc. for a facility that would house 140 employees.
Keith Wilschetz, director of airport planning, says the board delayed the project because of uncertainty in the industry. "There are so many things that are up in the air right now, involving the airlines, the fuel costs," he said.
Asked how long the delay will be, Wilschetz said, "maybe two months, maybe two years."
The agency's 355-member staff works from seven different sites at the airport, but 100 workers, including traffic and maintenance personnel, do not have regular office space.
Some sites are overcrowded, with workers doubling up in some offices, Wilschetz says. "We're filled up every place we can go, and there are very few options where we can go."
A planned terminal expansion next year could add even more workers, he says.
The agency is planning to add 10 gates to Terminal 2, build a garage, overnight parking for jets and improve the roadway starting in the spring.
Board member Ramona Finnila says increased staff at the airport caused by the improvement project will require additional office space.
The airport authority was scheduled to host a half-day workshop Aug. 2 covering a number of future airport concepts, including placement of a mass transit center and possible relocation of passenger terminals.
Other agencies scheduled to participate in the workshop include the city and county of San Diego, the San Diego Association of Governments, Metropolitan Transit System, North County Transit District, and U.S. Department of Defense.