Craft Beers Taking Larger Gulps From Brewery Markets
Monday, April 28, 2008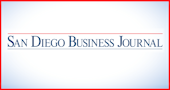 Perhaps it's the climate or the inclination of its residents to experiment with novelties, but for whatever reason, San Diego is a hotbed for craft beer making, and now home to 20 different breweries.
The rise of craft beer here comes mostly at the expense of national beers and imports whose sales have been flat or barely rising in recent years, say local brewers.
"The pie (of craft beer sold locally) is absolutely growing," said Chris Cramer, co-founder of Karl Strauss Brewing Co., which was launched in 1989. "Everyone has got their own niche and we're friends in beer."
According to the Brewers Association, a Colorado-based trade group of craft beer makers, sales by craft breweries last year rose 12 percent to more than 8.1 million barrels. (A barrel equals 31 U.S. gallons.) In dollars, the craft industry generated $5.7 billion last year, up from $4.95 billion in 2006.
The majority of the breweries are small, making a few thousand barrels annually, enough for their "brewpubs," a brewery that dispenses food on the premises, and a few local restaurant customers.
Lee Doxtader founded one of the first brewpubs in the area in 1989 when he and his college roommate, Scott Stamp, opened Callahan's Pub & Brewery in Mira Mesa, which carried dozens of imports and smaller beers. The partners began brewing their own product the following year. Later, they opened two other restaurants. Last year, their business, called the San Diego Brewing Co., with 110 employees did more than $4 million in sales.
"I think people are seeking an alternative to mass-produced and mass-marketed anything, and they're willing to take a chance on something that the makers put their heart and soul into," said Doxtader.
Focus On Quality
Like most craft brewers, San Diego Brewing produces only a limited amount, about 700 barrels this year, up from about 600 barrels last year.
Doxtader says his emphasis is on quality. A recent creation, called "Hop-notic," won a gold medal at the Craft Brewers Conference held April 16-19 at the Town and Country Resort & Convention Center.
In contrast, the region's two largest brewers, Karl Strauss and Stone Brewing Co., are making much greater amounts and more varieties of beer.
Stone produced about 68,000 barrels last year, the most of any craft beer maker in the Southwest, and 20th in the nation among national craft brewers. The product was distributed in 25 states besides California.
Karl Strauss produced more than 31,000 barrels last year, earning it 41st place among national crafters, and maintains only a regional distribution.
Cramer says that when he and partner Matt Rattner decided to launch their venture in 1989, they enjoyed a huge advantage because of Cramer's Uncle Karl, a retired master brewer at the Pabst Brewing Co., who learned the trade in his native Germany. He worked at the business until he died in December 2006 at the age of 94.
Karl Strauss Brewing now operates six brew restaurants in the region, a distribution center, and has about 450 employees, compared with 55 when they opened their first brewpub on Columbia Street nearly 20 years ago.
Though most are seemingly content today, some trepidation reigned at the recent craft brewers convention because of a global shortage of hops, an essential and much used natural ingredient of beer.
Higher demand, less acreage for growing, and more European brewers buying up domestic hops (using a stronger euro currency) has led to skyrocketing hops prices in recent months.
"So far, we're doing OK because we've contracted for all the hops that we need through this year," said Jack White, founder and president of Ballast Point Brewing Co., which started off as a seller of home brewing equipment in 1992.
Price Increases
White says his beer company, along with practically every other craft brewer, has had to increase prices due to the hops price inflation and higher costs for gas.
Mike Hinkley, founder and chief executive officer at Green Flash Brewing Co. in Vista, says increased costs for ingredients and packaging has driven up the costs to produce his beer 24 percent this year. Once it gets to consumers, those increases will translate to an average hike of $1 to $1.50 for a six-pack, he says.
Craft brewers use far more hops in their beer than national beers.
Greg Peters, the head brewer at Pizza Port Brewing Co. in Solana Beach, says for a light ale similar to what is made by Anheuser-Busch Inc. or Coors Brewing Co., he may use about 1.5 pounds of hops per batch. But for some of Pizza Port's brews, such as its Double IPA, he'll use 50 pounds per batch.
"There's just not enough hops to go around," Peters said.
Pizza Port, which began in 1992, now has three locations and is producing about 2,000 barrels annually.
While it may be a bit pricier, local brewers say there has been no drop in demand.
"It's an affordable luxury," White said. "They might not buy a new boat or a flat-screen TV, but they will always pay a little more for their beer."